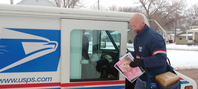 "Neither snow nor rain nor heat nor gloom of night stays these couriers from the swift completion of their appointed rounds."
This statement, engraved upon the James Farley Post Office in New York City, is used to describe the dedication of a group of individuals in the US and beyond that deliver us our daily mail. Ironically, James Farley is also the name of the father-in-law of the carrier interviewed for this article, and they both are from Yankton.
Laddie Novak, a Postal Carrier for Yankton, SD, has been braving the weathers of South Dakota and Nebraska ensuring the swift delivery of mail to his customers for 14 years. During this time, only twice has his route been delayed by inclement weather, which we as residents of South Dakota know very well is a feat all its own.
Mr. Novak started his career as a Postal Carrier in Norfolk, Nebraska in 2004 after retirement from a 20-year service with the United States Coast Guard. He ended his military career with the rank of Chief Warrant Officer 2nd. Laddie was a radioman whose duties included maintaining communications during times of crises, such as the tragic event of the plane crash that took the life of John F. Kennedy Jr. and two other passengers off the coast of Martha's Vineyard.
"I was a Chief Petty Officer when JFK Jr.'s plane went down between Nantucket and Martha's Vineyard and I was in charge of communications in that area and assisted in the search. It was a very big ordeal since he was from that area and was very popular being from the well-loved Kennedy family. News media and bystanders were swarming everywhere and trying to see what was going on and awaiting the news of the search. That was the most people I had ever seen in the area at one time. Obviously, the outcome wasn't what anybody wanted."
Upon completion of his military service in 2003, Laddie returned to Yankton, married his high school sweetheart, Joan, and took a warehouse management position in Yankton.
"I started thinking about the Postal Service, took a couple of tests, one for rural carrier and one for city carrier, and actually got the call for rural carrier first in Vermillion. However, while I was training for rural carrier in Vermillion, I got the call to interview for a city carrier job in Norfolk, Nebraska."
Weighing his options, Laddie chose Norfolk because of the possibilities that choice presented. "The rural carrier position is only a part-time position where you work every Saturday, and any other times they may need you. The city carrier was a better way of getting your foot in the door and more likely to get a full-time job quicker, so I took that city carrier job in Norfolk, commuting from Yankton to Norfolk every day for a year."
After a year of service in Norfolk, an opportunity presented itself in Vermillion. "That cut the commute down, but the only way to get that position was to transfer as a clerk instead of a carrier. I decided to do that and figured I would try for a carrier position again because I love being a carrier."
Laddie worked as a clerk for a portion of the 5 years spent in Vermillion, but as soon as a carrier position opened, he transferred to that. In 2010, another opportunity presented itself, this time in Yankton, and that was an easy choice for Laddie. "I jumped on that opportunity, and then that year I made full-time regular, which guarantees you 40 hours, an assigned route, and paid holidays."
Laddie's full-time position in Yankton keeps him very busy. A typical day starts at 7:45 a.m. with clock in. After that, attention is given to what is referred to in the business as a "case" which contains each carrier's set of addresses, in a row, in order of delivery, and mail that belongs to those addresses. However, not all the mail is in the proper order at that point.
"You have mixed mail in a tub that we call "flats", which are magazines and larger envelopes, along with some letters. You go through those and case them up to put them in order. Because of advancements in technology and sorting processes, preparation time before starting a route is less time-consuming than it once was."
After the prep work is completed in the office, it is time to clock over to street time and hit the streets to deliver. Trays of presorted letters come from the plant in Sioux Falls, so these are loaded in the vehicle with the flats and parcels to be delivered.
Being a mail carrier with a walking route has given Laddie the opportunity to meet a lot of Yankton residents, and as he told this P&D Reporter, he is ok with that.
"I think every carrier would end up saying they meet awesome people. You learn customer's names, they know you, they expect you around a certain time, and they greet you enthusiastically. A lot of people don't even care about the mail, they just want to pop out and say hello, and that's a good part of the job I think. You are putting a smile on people's faces whether they are getting the mail or just being able to talk with you. And they, in turn, put a smile on our face."
"I also love my route, which includes basically the South side of 4th Street to the river, and from Burleigh up to Park Street near the hospital. The downtown route was intimidating at first because of so many businesses, but I quickly realized the business owners and employees are very friendly and I have become friends with many of them. They also keep me well fed with offerings of cookies and donuts and such!"
Having a walking route is also great exercise. Laddie kept track of his steps while delivering and came up with over 33,000 steps. This computes to over 16 miles each day, all while on the job. "Then my wife wonders why I don't want to go for walks with her in the evening," he jokes.
Delivering mail with a walking route can also take its toll on the body. "I recently had a large tear of the meniscus in my knee repaired.
You see that a lot with carriers."
When asked what his thoughts were when it came to Canines and Mail Carriers and the ability to co-exist, his answer was that it is not a problem, MOST of the time!
"I am a dog lover, don't have any dogs, but I always give them the benefit of the doubt. When I approach them, you look for the signs: is their hair standing up, or are they wagging their tail. You get to know them and they get to know you. The ones that are very territorial are doing their job, and they know they're doing a job. They see you come, they bark like mad, you go away, hey, job done, goal completed for the dog. And that is a routine for them every day."
He stated carriers do have to carry pepper spray with them at all times, as some dogs out there do more than just bark. "They do sneak up on you sometimes and I have had to be quick with my reflexes, but fortunately I have only gotten teeth sunk into my boot and not into my skin!"
When Laddie is not on the clock carrying mail, he and his wife are busy with their 5 children and 4 grandchildren. "Kids and grandkids are pretty much our hobby, whether we are babysitting or attending games and recitals. Our kids range in age from 28 to 11, so there is a big variety in there. One is in college, one graduated high school last semester, and our youngest daughter, Jenna, is in dance and soccer.
This winter is her first year with indoor soccer and we are finding out how exciting and fast-paced it is."
"In the past 2 years we have gone from 0 grandkids to 4, so that keeps us going! Our kids and grandkids keep us young, but also sometimes make us feel very old!"
Laddie Novak, local Postal Carrier for the city of Yankton is dedicated to the delivery of the daily mail. He does this with a smile and love for the job. In all weathers you will see him going about his route, at times wind burnt, other times sun burnt, but always steadfast and swift. If you see him out and about give him a wave! This reporter assures you that more often than not you will receive one in return.
"I think I am an outgoing, friendly type of guy. I like to learn the people's names, I like to say hello, even if I am passing someone I don't know on the street I like to greet them because it is the proper thing to do."