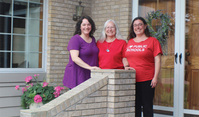 Judy Willcut and two of her daughters share more than a genetic bond, they all followed a career of teaching. Even more noteworthy, they all specialize in Special Education.
The reward of a high school diploma and a college degree for Judy came with its challenges, and it's not something all her sisters could experience. She explains that she and her next older sister attended college while the three older sisters began working after the 8th grade to help support the family. For Judy to attend high school, she had to live, work and board herself in a different town as there wasn't a high school in her hometown.
When Judy went to college, women at that time were given the option of studying teaching or nursing; Judy opted for the teaching field. The decision wasn't difficult, she comments that she had always known she was going to be a teacher. She obtained a degree in Elementary Education with a minor in Special Education. "It made sense to me that Special Education would complement Elementary Education because they were showing me different ways of teaching to help people that were having problems with the traditional way of teaching and the traditional curriculum," she states.
In 1970, she finished college, moved to Yankton and began her teaching career in Special Education, spending the next 49 years in that field. She gained experience from various opportunities. She taught self-contained Special Education classes at Lincoln Elementary School with students who were approximately 14-20 years old. When these students moved to the Yankton Middle School, then located on Walnut Street, she moved with them. A few years later, she moved to the high school on Mulberry Street with the older students. She also spent time teaching at Stewart Elementary and in the Resource Room at Lincoln Elementary where she recently retired from.
Two of her five children, daughters Natasha Phillips and Martha Williams, followed in their mom's footsteps though neither initially intended to.
Natasha admits with a shy smile, "I fought it for a long time because I wasn't going to go into the same field as my mom did." After becoming very familiar with disabilities when one of her siblings was born with some, she became a paraprofessional. She worked with many different types of kids, from those who needed assistance with all their needs to those who just needed help in the classroom. "Which was good because I got to see it all," she states. She later obtained her teaching degree at age 30 when she went back to college full time. She now teaches at Beadle Elementary with the district's program for students with emotional and behavioral disabilities, working with children in grades kindergarten through second or third grade.
Her younger sister Martha agrees that she didn't intend to go into the same field as well. Before teaching, she traveled, working as a paraprofessional in Special Education. She now teaches at one of the alternative high schools in Minneapolis, Minnesota in what is equivalent to a Resource Room. She works with an age group of 15- to 20-year old students.
A Transformation
Judy witnessed many changes in the special education field over her teaching career. When she first started teaching, Special Education was for children that couldn't function in a regular class setting. A child was placed in Special Education class after testing and recommendation from a psychologist. She recalls the Special Education department in Yankton consisting of two teachers and two aides dividing approximately 25 students.
In 1975, the Public Law 94-142, or Education for all Handicapped Children Act was passed. This law guaranteed a free public education to every child with a disability. The law brought forth many changes and has evolved greatly over the years.
Natasha explains, "it's a pretty new thing that everybody has a right to school in this country."
This law brought forth the introduction of Resource Rooms, special classrooms where students with disabilities can be assisted more closely with their needs. With the law, Martha explains, "there's a whole spectrum of services that federal law outlines with kids that maybe just need a little help during their school day all the way to kids that need to be in a separate facility."
The number of students in Special Education has greatly increased during Judy's career. During her first year of teaching, there were about 25 children in the Special Education program and when she retired, she had 45 kids just in her caseload. "There must be 350-400 kids in special education in Yankton now but it's because there's a whole range of services available," she states. They explain to me that because of the increased advancement in the program, there is a shortage of teachers in the field.
Judy recalls her first years of teaching, when there wasn't a customized plan for each student like there is now, referring to the IEP, or Individualized Education Plan. The trio explain the IEP is given to each student in Special Education to provide the best education possible. This is a team effort between students, parents, teachers, administrators and any other parties that may need to be involved.
They discuss the significant amount of time and effort involved for the paperwork in their careers. Martha admits, "I don't think I could have gotten through the first year of being a Special Education teacher if I didn't have someone to call." They agree that the paperwork is one of the most challenging aspects of their careers.
Politics is also challenging as there are promises made that often aren't kept, like funding. Martha comments, "Education is one of the few property rights that a child has in this country, an important civil right. Every single child is required by law to be provided an education."
"Public school is a real foundation of our entire society and our culture," Natasha adds. "This is why funding is so important for education."
A Valuable Resource
Judy has become a huge resource to her daughters as she has kept many of her teaching techniques and materials from over the years. They all laugh about the abundance of information she has stowed away. "That's what makes her such a good source of information too," Natasha smiles.
Judy has been teaching in the Yankton School District so long that she has witnessed many of the students' progress over the years and has even taught children of her previous students. She explains the delayed gratification for her; though she may not see immediate progress during the student's first year or two, the progress often becomes evident as the student gets older.
She smiles, "It's really nice when you get a kid that could not learn how to read and could not learn how to behave in school and to just be able to see them be successful." She has also been a source of sensible advice to her daughters. Martha comments, "I think the best advice that Judy had ever given me was to compartmentalize. You go to work and do your best for the kids and then you leave it at school. And when you go home and you be there for your family, be a spouse, be a parent, be for yourself. The same thing, when you have a personal issue, you don't get to take it to school, because at school you're there to be the best for your students."
Happenstance
They all enjoy the surprise of seeing past students. Martha comments how she has had kids come back to find her to visit, often it's the ones that she wouldn't have expected to.
They talk about being spotted by students when they're out in the community. They laugh, explaining that Judy knows someone everywhere they go. Judy tells a story of their experience earlier that day at Hy-Vee. A previous student, now in middle school, saw Judy come in the store.
The student and her father wandered around the store to find Judy, just so the girl could say "hi."
I admit, it is fun when you see a favorite teacher years after you were their student.
The wealth of knowledge among this trio is inspiring to see and it's impressive to consider the number of students the group has impacted over the years. Their strong connection of consideration, compassion and drive to help those with special needs makes me stop and wonder. "Is this just a common bond or maybe it really could be genetic?"