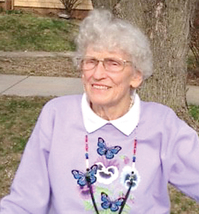 Our mother, Margaret Hunhoff, died peacefully one week shy of her 95th birthday. I took the photo above in front of her Pearl Street home four years ago, before she became ill and moved to a nursing home. Life can change fast in your 90s.
Following are a few memories about this strong woman who endured one tragedy after another, but kept pushing forward.
Mom graduated from Oto High School in Iowa in 1941. She was an honor student and editor of their school newspaper, the Oto Optimist. Aspects of her childhood were difficult, but there were good times as well. A favorite memory was traveling to Sioux City to perform on the radio with the Oto School Harmonica Band.
Mom treasured her family, her Catholic faith and the written word. Those values sustained her through difficult times, especially after the death of young son Steven in a farm accident in 1952. When Dad passed away in 1982 at age 65, she wrote, "Death of a Quiet Man." One stanza said:
"One day you stood beside a tiny casket-
The only time that people saw you cry-
Yet, when it closed and left him in the dark,
You found no words with which to say goodbye."
Mom worked hard to build a comfortable, independent life for our developmentally disabled brother Patrick. When he was five, she wrote a poem about her precious seventh son. It began:
"Dear little boy who struggles so
To hold the pencil tight
And keep the numbers in the lines
And draw the numbers right.
Of course you're different in some ways
But still you shall succeed
Along the path that's meant for you,
And never mind the speed!"
Mom suffered more than her share of grief, including suicide deaths by several immediate family members in Iowa. Writing was an escape from heartbreak. She said, "On difficult days, I sit at the typewriter and try to chase the clouds from my mind."
In 1995, I asked Mom to write a monthly column for my Yankton County Observer. She didn't miss a month for the next 20 years. "Grandma's Scrapbook" won three first place state awards. When she was 90, a contest judge said, "I gave excellent marks to three entries right down the line, but there can only be one winner and you, my dear, are it! Wonderful, wonderful column. I hope your readers appreciate what a gift they have in you."
She was a natural writer and talented poet, but Mom's first career spanned 30 years as a hospital nurse, nursing home nurse, and Yankton County Health Nurse. All her life, she tended to needs of the sick, the poor and anyone who needed a friend.
As county nurse, she spent many hours with elderly homebound clients who lived alone. A supervisor said her home visits took too long, but Mom was often called to put her stethoscope aside and listen for the beating of lonely hearts. She later burned the midnight oil at the Yankton County Courthouse to catch up on reports and paperwork.
(Psalm 68:6 - "God makes a home for the lonely.")
For decades, Mom assisted a poor, heavyset farm neighbor who suffered from chronic ingrown toenails. At our farmhouse or theirs, Mom regularly soaked this lady's swollen feet in warm water and neatly trimmed her ailing toes. It evoked Jesus' instructions to His disciples in John 13:14-17 - "If I, your Lord and Teacher, have washed your feet. So you should also wash one another's feet."
For 19 years, Mom prepared food for a homeless and alcoholic Yankton man who came by each day to eat a meal in her enclosed porch. For me, it was a daily real-life echo of Matthew 25:35 - "For I was hungry and you gave me something to eat. I was thirsty and you gave me something to drink. I was a stranger and you invited me in."
J.R. Kirsch, one of Mom's former neighbors, admired her for feeding that homeless man. It changed his views about helping people with addictions. "Because of that, I have been able to pass those views on to my kiddos," Kirsch said.
Mom loved her grandkids and the feeling was mutual.
Granddaughter Abbey said, "She had a way of making someone feel like they were the most important person in the world." Grandson Max once sent his Grandma Margaret a card calling her "the most interesting and wonderful person on earth." He added, "I could listen to you talk for hours and sometimes I do!"
My mother was not perfect. She worried too much. She could be manipulative (with good intentions). Her driving suffered as she aged. Mom started buying stamps and mailing letters at my brother's South Dakota Magazine office near her home. Bernie didn't mind, but asked why she quit going to the post office? "Well," she said. "They get so touchy when you just nick a car there."
She was strong-willed. Her kind physician, Dr. Daniel Megard, was accustomed to hearing self-diagnosis of Mom's various ailments. "She had her own ideas, but I was allowed to have an opinion," he smiled.
I know no one who is perfect, but I had a mother who was special in many ways. Her loss leaves an emptiness that has not completely settled in. I still find myself thinking I need to get up to the nursing home and see Mom, then remember she isn't there anymore. I miss her now and forever. Amen.