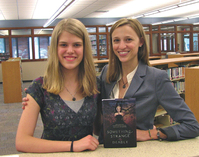 The Internet has made personal correspondence easier than ever, either between relatives, friends or coworkers. One such friendship resulted in a writer of young adult fiction visiting local schools and the city library last week.
Thanks in large part to the efforts of local 14-year-old Maddie Meylor, author Susan Dennard came to Vermillion Tuesday, May 14, to speak at the middle and high school, and to appear at "Deadly Day at the Library," an author talk and book-signing.
The day's events came as the result of the e-mail friendship between Meylor and Dennard, author of a YA gothic mystery called "Something Strange and Deadly."
"I review books on my blog, and there were some conventions I had wanted to go to, but I had schedule conflicts, so I was unable to," Meylor said. "My mother and I approached the library just to see if they would be interested in ever having an author come.
"It just kind of went on from there. I contacted an agent, worked with her. We really had no idea how it worked at all, so it was a learning process for sure. It was a good experience. I learned a lot through organizing it," she said.
"She did a good job," Dennard said. "Most people don't go to the agent, which is the right thing to do. Most people are just like, 'Hey, can you come see me?'…
"I was impressed, honestly, because I already kind of knew Maddie," Dennard said. "She had e-mailed me about my book saying she liked it, so when my agent said, 'Do you want to go to South Dakota? This girl Maddie wants to have you come,' I was like, 'Really? Her? That was a go-getter girl.'"
Meylor and her mother Pam approached the Vermillion Public Library last September asking if Youth Services Librarian Joyce Moore would be interested in helping to host the event.
"At the time, we were under construction and in a temporary workspace, and I said, 'Well, sure, we should be done by then.' It just came out of that," Moore said.
"I read the book right away, loved it and approached the library board with the possibility of hosting it, and if they would be willing to help fund it. They were very enthusiastic and very generous."
Moore said Meylor's efforts were the most important of all.
"Had Maddie not come to me, this wouldn't have happened," she said. "I actually have had a grad school classmate contact me recently and say, 'How did you get that author to your town?' and I gave her Maddie's e-mail."
Meylor said she has always been a big reader, but it never occurred to her to talk about books on her blog.
"My dad does Web site designing, so it was something I had. I wasn't good at doing normal blog posts. I can't do that," she said.
"People always ask me what books I read...so I just started putting my thoughts up. It's not big yet. It's definitely not well-known, but gradually after I started interacting with more readers and authors, it's really become bigger than it was before. I think last month I had 650 unique visitors."
She added that she does not focus on any particular literary genre.
"I really just review whatever I read," she said. "If I like it, I review it. I will pretty much read anything you give me."
Even though the Internet has made such correspondence easier, Dennard said the friendship she has with Meylor is rare.
"Most people don't know you can just e-mail us and we'll answer you," she said.
"That's something I've learned," Meylor said. "It's actually pretty easy."
"Most of us are at a computer, and we see our computers all day long, so we see our e-mails coming in," Dennard said. "Most authors will answer you, it's just that most readers don't know that."
"I've learned it slowly," Meylor said.
"When I first started out, my e-mails were ridiculous fan-girl stuff. I gradually figured out what I needed to say to make it sound more professional, thankfully. I was just making a fool of myself at first."
The events were funded through the South Dakota Arts Council, the Vermillion Public Library Board and the Vermillion Public School Foundation.
"We got a lot of community support," Moore said. "I visited with Anne Dunham, the school district librarian, and she was very enthusiastic, too, and said the school had not brought an author to town for 10 or 12 years. She really wanted in on it, and she lined up the school visits today."
Dennard spent about an hour at both schools that day, taking 30 minutes for a presentation and leaving the other open for Q&A.
"(The presentations) depend on the age group," she said. "At the middle school, I talked about how I became a writer, then how I write, showed them some movies and video games that I like. At the high school, it was more just answering questions and talking about how I write, doing more of a workshop-style thing. Tonight I'm going to talk about inspiration and how I became a writer by conquering my fears."
Meylor said she would "love" to become a writer herself.
"I will have to definitely work on it a lot, but I would love to at least do something in the publishing industry," she said. "I don't know what yet – I'm only 14 – but I don't have to decide quite yet. I know I'm going to continue my blog at least, so that's something I can work with."
Events like those that took place are the "highlight of writing," Dennard said.
"We write all these stories and if you're lucky enough to get them published that's pretty amazing, but when you actually meet someone who's read your book and likes your book and says that your book has affected them, that's a very powerful feeling," she said.
For more information about Dennard and her work, visit http://susandennard.com/.
For Meylor's blog, visit http://Maddie.TV/