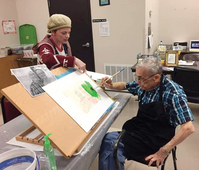 After a long buying trip in the heat of June traveling the winding roads of the Black Hills, Mom and I landed back in Rapid City with a trailer full of one-of-a-kind artwork created by local artists. We had the pleasure of meeting with numerous artists, learned about their journeys' pursuing their craft, and purchased pieces to showcase and sell in our Yankton gallery.
While it was an amazing day, we were tired, crabby, talked-out, and hungry and we were contemplating whether to "call it a day" and skip the last gallery on our list of places to stop. We decided to muster-up our energy and drove downtown to the Suzie Cappa Art Center. Approaching the entrance, we noticed the whimsical details, large windows displaying art, and signage which read "Artists of All Abilities".
We walked through the door and entered a space full of colorful, textural, unique pieces of art. The works spoke with honesty, perspective, joy, and innocence unique to the artists of this gallery. Our moods immediately lifted, and we spent the next few hours looking at a multitude of various works and admiring the center in its entirety. We left with numerous pieces now bound for the walls of our gallery back home.
Most of the artists who create, exhibit, and sell their art at the Suzie Cappa Center are served by Black Hills Works which assists individuals from the Rapid City area who have disabilities, including cognitive and physical disabilities. The gallery is nothing short of an amazing outlet and support for both their established and budding artists!
Months later in our gallery, I began noticing our customers with the same smiles and positive reactions we had when viewing the artwork from the Suzie Cappa Center for the first time. This got me thinking: does Yankton have a program such as this? If so, what can we do to support our local talent? My investigation began and I was ecstatic with what I found. Our community has two incredible art centers led by two amazing artists instructing students from Ability Building Services (ABS)!
ABS provide services like Black Hills Works serving approximately 140 individuals. In addition, they own eight residential facilities around Yankton. In 2016, ABS expanded and developed a new art studio.
Artist Jessi Koch helped create and name the Courage Art Studio in spring 2016 welcoming her first students that fall. Jessi currently works individually with 25-30 artists per week. The program is so highly popular there is a waiting list to take classes!
The Yellow Bird Gallery is owned and operated by Artist Sue Hill. Her gallery located at the National Field Archery Association (NFAA) complex offers classes to young, old, and artists of all abilities. More than twenty-five ABS students attend small classes each week instructed by Sue. She has been working with artists from ABS over the past decade in several different locations until moving the gallery to the NFAA four years ago.
When I met with Jessi and Sue in their respective studios, I admit I had a hard time focusing on the interviews. Intrigued by the works in progress and those pieces completed and displayed, my eyes could not help but wander. Vibrant colors, unique shapes and sizes, textures, sculptures, all created from varying mediums adorn every corner of their studios. If I could have rolled-up my sleeves,
I would have dived right-in and started making my own creations in these inviting workspaces!
During the interviews, it became apparent the passion both Jessi and Sue have for the students they instruct. With their knowledge, guidance, and encouragement students can express themselves through their creations promoting personal growth, confidence, and selfesteem.
Both instructors resonate "there is no right way or wrong way" when it comes to art.
Overall, Sue encourages students to enjoy what they do and to work through the fear of someone not liking their art. Art is subjective in nature and what one person likes another may not and the differences are what makes humans and art distinctive.
As Sue states "art is a journey", with her guiding the students through the creative process. Sue starts classes with a conversation, or a discussion talking about who they are as individuals, and perhaps experimenting with mixing colors or trying new mediums. When a student asks Sue for help with their work she states "if needed I will assist with an eye or a mouth on a painting, otherwise this is their work. It is who they are, they own it".
Jessi who likes to problem solve uses her skills to assist her students with their projects. She poses questions such as "what can we do to fatten your brush"? According to Jessie, many students must work through physical barriers such as dexterity when completing their work.
In other instances, some students start from a very basic place. "I have them draw four shapes. I tell them you can do anything if you start with a shape".
One of Jessi's favorite projects is a paper cut-out of a light pole spanning floor to ceiling on the north wall of the studio. There are paper power lines running vertically complete with birds sitting on the wires. "This was one of our first projects we worked on and it actually interested students in other classrooms. I provided guidance, watercolors, charcoal, and acrylic paint and let them create."
My eye caught several paintings unique to others hanging on the walls of Courage Art Studio. Jessi explained they are "group paintings" where students use their leftover paint to decorate a canvas. They continue to add to the painting through several class periods until they are satisfied with a final product. Each of these canvas' are beautifully abstract and yet distinctively composed.
What a creative way to utilize paint and build teamwork completing a shared project?
One of Jessi's students had a difficult time with getting messy and needed to clean-up frequently during their classes. She reports "after a few sessions he was having so much fun he forgot about being messy…
It's impossible to be in a bad mood working here" she says.
An example Sue provided relates to a student who is nearly blind.
To assist him, she tapes off the areas based on the design or picture he wants to replicate and helps him look closely to see what colors, shapes,
etc. he will be painting. Sue proudly showed me one of his works and it was a beautiful still life with fruit on a table closely resembling the picture he had selected.
Sometimes students need an inspiration to launch a project. To help with this process, both instructors maintain extensive libraries of reference materials available for students to draw ideas from. Sue has a library of books, photos, etc. spanning the classics to modern art. Jessi likes to use a variety of sources including old calendars for inspiration. While reference materials are available, both Sue and Jessi try to encourage students' originality and creating from within.
Regarding creating from within, I was also curious to learn more about these talented artists I was interviewing. What inspired them to a life of creating? What has their journey to the present day looked like? How did they become interested in instructing art students?
Sue and Jessi both worked in Yankton group homes and knew each other from their previous jobs. Currently, they share many of the same students and work together to support and encourage their budding artists. While Sue and Jessi share many of the same interests and love of art, their journeys differ.
Growing up in Alabama, Sue has been painting in some form or another since she was a young girl. At eleven years old, Sue describes looking up to her older cousin who was a painter. "I remember visiting my cousin at her art studio at Auburn University. I can still remember the smell of the oil paint". Sue's mother enrolled her in art classes where she had the misfortune of an instructor who would "walk past her work and scrape the paint off of the canvas" telling her to start over. This experience affected Sue who remembers vowing at the age of twelve or thirteen to encourage and teach art to children when she grew-up.
Later in life and with encouragement of her husband, Sue attended Kelly King Art School in Omaha, Nebraska. She learned the art of decorative wall finishes and faux painting which she took back to Alabama and operated her successful business named "Fair and Faux". She completed her first few jobs and the word spread about the amazing work she did. It was not long, and she needed to hire additional help!
After running Fair and Faux for several years her husband decided to retire. They made the decision to move away from Alabama, and in 2005 they landed in Yankton a place they had visited in previous years. As a child, Sue remembers thinking "I am going to live in the Midwest someday. It is where I belong".
Once in Yankton, Sue took a job in a group home. She also taught classes in a downtown studio before acquiring eight ABS artists from another Yankton studio which was closing its doors. Moving forward, Sue needed a classroom to teach her students. She was able to utilize an available space at a local church until moving to her current location at the NFAA.
Jessi's journey started in Yankton, as she is a "Yanktonian" born and raised. She declares "ever since I was able to hold a pencil I have been drawing." Jessi has fond memories of an aunt she spent a large amount of time with. Her aunt taught her how to garden, bake, work with crafts and always supported Jessi's creative nature.
As she grew-up and remained interested in art, Jessi attended the Academy of Art where she learned different techniques and mediums. Continuing to create, she began working in an assisted living home which she loved. The people she worked with reminded her of the classmates who attended special education classes when she attended grade school. Jessi liked being around their unique perspectives and how they see the world.
One day a window opened, and Jessie received a call from a friend who works at ABS. She wanted to know if Jessi would provide some advice and input to opening an art center at ABS. Jessi was happy to assist, and it was not long after she was offered the position to direct the studio.
Both artists expressed they are "right where they want to be". I asked them what they would like to see for their future. Jessi indicated her dream to grow Courage Art Studio into a Suzie Cappa Center model with a studio and gallery for artists of all abilities in Yankton. Sue expressed her desire to continue encouraging her students and to interest more youth with art. She would also like to expand all her classes offering more for adults.
I asked what if any supplies are needed in their studios. Overall, canvas' and other painting surfaces rated high on both of their lists. Jessi indicated she likes receiving any kind of odd items, scraps, old paint, colored pencils, fabric ribbon, etc. for use in projects.
Jessi and Sue continue to find ways to inspire students through art. They work to gain exposure for their artists, promote and help them sell their creations, and to increase their involvement in community events and activities. Moving into the future with their vision and goals in mind these two ladies are sure to make a difference in the lives of so many. Their passion for the arts and dedication to inspire and encourage others is truly extraordinary.