Pam VanMeeteren never imagined she'd be in college for twenty-seven years, especially while caring for her family of four children, Alissa, Brian, Abbey, and Ashley with her husband; Jeff. All the while working full-time, but Pam VanMeeteren is far from the the average college student or parent. She shares that she "was always a person that wanted to help others in some way." Celebrating the achievement of her Doctorate of Nursing Practice degree from South Dakota State University in May of 2019, has been the pinnacle of a lifetime's worth of education and service. This graduation was especially special because she shared it with her daughter, Alissa, who received her Master's in Business Administration from the University of South Dakota on the same day. Pam jokes that "It wasn't completely my only motivation, but I felt like I've been going to school forever, I'm not going to let my son get his doctorate before I do!" Brian, is currently enrolled in the Doctor of Nurse Anesthesia Practice program at Mount Marty College. To date Pam VanMeeteren has attained a BA in Nursing, a Master of Science in Nursing, two Post Masters as a Family Nurse Practitioner, and as a Psychiatric Mental Health Nurse, and her terminal degree: a Doctorate of Nursing Practice. In addition, she's also a certified Addiction Registered Nurse. Any patient of Dr. VanMeetern's is in very knowledgeable hands!
Pam, a self-professed "farm girl from Canton, SD." originally aspired to be a "social worker in a big city, but a high school guidance counselor encouraged me to pursue nursing instead." Pam shares that while her parents were incredibly supportive, she "was the pioneer of the family for higher education, and the first to graduate from college." This culminated in a Bachelor of Arts degree in Nursing from Augustana College in 1985. After graduation Pam worked at the VA hospital in the oncology/surgical intensive care department in Sioux Falls. She then went on to teaching nursing in Eagle Butte for a Presentation College satellite for two years. Pam truly enjoyed being a teacher and preceptor. She shares that "When teaching others you need to constantly be learning yourself. Students always have a question, you need to have the answer for." Pam's two siblings followed her scholastic lead and became future teachers themselves.
The journey of Pam's "profession and education probably happened more as a result of making use of opportunities, versus a real calculated plan." She became involved with USD nursing program, who hoped to add satellite program sites across the state in 1988-1989. USD was working with Capitol University Center, a small community college in Pierre, SD. at the time, and hired her to become a lobbyist. Pam worked with surrounding hospitals to bring a satellite program to Pierre. Pam subsequently became the director of the nursing program that started in Pierre. Pam credits her "wonderful mentors who guided me into education and teaching. It was one of the best experiences of my professional life." The program is still in existence, with one of Pam's original co-worker founders, as the active director.
While Jeff worked for the State of South Dakota in Pierre, Pam continued teaching for USD, and simultaneously began her Masters of Science in Nursing classes. She was a year out of Augustana and there was no such thing as online classes, so she commuted the majority of the time between Pierre and Brookings every week for a two or three credit class. Because of the flexibility in the health field, Pam worked a lot of weekends in order to make her class schedule possible. "I graduated with my Master's when Brian was a year old… pre-kids was easier, it's mostly giving up your social life to do it. Honestly, some of it is a blur. A lot of the work was done in the evenings and when the kids were asleep in bed. When I was teaching it was bit easier to do because there was a little more flexibility for preparation for teaching and college work." Pam credits her husband during those hectic days for enabling her future successes, "to complete this much education, have four kids and work full-time… Jeff has always been a wonderfully supportive spouse. He's always encouraged me with anything I wanted to do. I think we always found a way to make sure the kids were able to be in the activities they wanted to be involved in, even if Mom had homework. We always found a way to work around it." Pam's husband of thirty one years; Jeff VanMeeteren, is no stranger to a non-traditional college experience as well. He is the regional park supervisor for the South Dakota State Department of Game, Fish and Parks in Yankton SD. When he was in his forties, he returned to college to receive his Master's degree in Public Administration at the University of South Dakota in Vermillion, SD.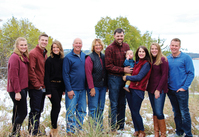 Pam was already a family nurse practitioner when she worked at the Human Services Center in 1996. She later became their clinical director, where she was primarily in charge of the supervision of all clinical services and administration for seventeen years. Pam had many valuable experiences and had grown to love her work in mental health, but knew she really wanted to go back to college to get her second Post Master's degree. Lewis and Clark Behavioral Health Services has been Pam's current employer since 2013, and Dr. Tom Stanage has been incredibly supportive of her continuing education goals from the beginning. "I can't speak highly enough about Dr. Stanage, and all the work he has done and continues to do to help the community. For example, Lewis and Clark is currently offering a program to provide mental health support for farmers and families affected by the flooding this past spring." Pam has also has been blessed to work in varying capacities throughout the years with her first supervising physician, Dr. Alan Brevik. This was after she graduated from South Dakota State University as a Family Nurse Practitioner program in 1996. "We have worked side by side, and he has come to be a very good friend. He's the smartest man I know! Besides my family, he has been one of the most influential and encouraging persons in my professional development." Dr. Brevik also currently works at Lewis and Clark Behavioral Services.
Pam has many interests outside of her nursing career, but the main ones include church, travel, golfing, and time spent with family. Pam effortlessly appears to weave them altogether with love. She says it perfectly: "I feel like I make it a priority to make time for the things I enjoy doing." The family's spiritual life has always been especially important to them. They have been very involved in Calvary Baptist Church in Yankton, and through the years have participated in teaching Sunday school, and youth groups, when their children were younger. They've also taken their daughters Abbey, and Ashley on separate church youth group mission trips to Central America when they were in high school. Pam travelled with Abbey to Belize and Jeff escorted Ashley to Guatemala. Currently Pam is active in the women's Bible studies group in the winter and participates in the women's ministry service, which is a special "heart thing" for her. Pam prefers to think of her professional work as part of her personal ministry and something she can do for the people close to home, "because you want to give what you can to others. There's a whole bunch of need, right in our own back yard. You don't really need to go far away to figure out how to help people."
When asked about summer plans Pam shares that, "In the summertime everything we love to do is right here in the Yankton area. I don't have any desire to do anything away from here in the summertime. We like to take advantage of the lake, the golf course, and family time. " Pam started playing golf when she was in her twenties, after meeting her future husband. She jokes that, "He liked to hunt, fish and golf. I decided I needed to pick one, if I was going to spend time with him. I figured golf was the best option. I play golf, that doesn't mean I'm good at golf." she humbly states. The couple loves to putt at Hillcrest in town, and they sometimes play at other courses as well. The couple also hope to attend a professional golf tournament sometime in the near future.
The VanMeeteren family "has never pushed education with the kids, but I think they've seen the importance of it. Yet, there isn't anything that says you have to have a Masters or a Doctorate degree in order to be fulfilled with what you're doing. It's not an absolute for anybody. My final completion of the doctorate wasn't required to do clinical practice. Futuristically however, nurse practitioners will likely have to get a DNP degree for practice. I wanted to earn my terminal degree before I'm terminal." she chuckles. "It was a personal goal, regardless if it would have a huge impact on my practice." Pam believes that "Even if you think you know a lot, there is so much more to learn! So, no education is ever wasted."
While many professionals in various fields suffer from career burnout, Pam reveals the things that have enabled her to stay strong in a demanding profession. "The things that help keep you the most grounded are your family, having a good team at your work environment, and most important for me, is my faith. There's no pill that's more effective than someone knowing that they are genuinely cared for. My work has always been my mission."
1985 Bachelor of Arts in Nursing Augustana College
1993 Master of Science in Nursing South Dakota State University
1996 Post Masters with certification as Family Nurse Practitioner
South Dakota State University
2014 Post Master with certification as Psychiatric Mental Health Nurse Practitioner University of Nebraska Medical Center
2018 Certification as Certified Addiction Registered Nurse - Advance Practice (CARN-AP)
2019 Doctorate of Nursing Practice South Dakota State University