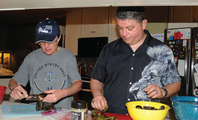 For a special meal, Steve and Tracy Huff believe you sometimes need to put some mussel into it — or clams or any other kind of seafood.
The Huffs have shared some of their favorite dishes featuring beef, pork, chicken and lamb. But for tonight's gathering, it was time to savor the treasures of the sea.
"It's warmer weather, and we wanted to go with something lighter," Steve said. "I appreciate the ease, nutritional value and good taste of seafood."
And when he says seafood, we're not talking fish sticks or tuna salad.
Tonight's meal actually featured two entrees. One the one hand, a plate was filled with mussels and clams on a bed of linguini and greens, drizzled with a light sauce using olive oil or butter and chicken stock. On the other hand, we noshed on a shish kabob. The bamboo skewer was filled with shrimp and rainbow peppers providing a colorful display of red, yellow and orange.
"In the Midwest, when we think of seafood, we think of surf and turf. We think of shrimp, crab or lobster paired with a steak or filet," Steve said. "That's great, but here we've combined mussels, clams and shrimp with pasta and greens for something really special."
And the local price is reasonable, Steve said, even in the nation's heartland 1,500 miles from either coast. "We bought three pounds of mussels for $9, and it feeds six to eight people. You can't beat it," he said.
Steve acknowledged that many people are leery of tackling seafood, worrying about preparing it incorrectly and even getting sick. He formerly numbered himself among that crowd.
"I was intimidated by seafood for the past 20 years, but I mastered how to cook and serve it. Now, I really enjoy it," he said. "I learned a lot from Chef Staci (Stengle) at Hy-Vee (supermarket in Yankton). She graduated from culinary school and (world renowned chef) Julia Child spoke at her graduation. Can you imagine someone receiving their degree from Julia Child and who is now available for us here in Yankton?"
As part of his learning process, Steve quickly learned the sign of bad seafood.
"If your fish has a funny smell and color, throw it out and run the other way," he said. "When it comes to mussels and clams, you need to make sure they are clean and free of sand or other debris. Your mussels should stay shut when you close their shell. If not, that's a bad sign."
Keeping It Light
Tracy sees seafood as a light alternative. She watches her health because of a family medical history. In particular, she works to cut down or eliminate sodium wherever possible.
"For dinner, instead of pasta I may have greens with a veggie," she said. "I follow the Food Network for ideas like the Pioneer Woman, who made vegetable lasagna using thinly sliced zucchini and squash. They also used homemade marinara. Today, I may puree tomatoes that we get from Hy-Vee or the farmer's market."
As another example, she pulled out a long, thin bottle filled with olive oil. "I love olive oil, all different types," she said.
Making use of olive oil and other Mediterranean food can add a healthful flavor, Tracy said.
"I found that lifestyle changes have made such a change for me," she said. "And you can switch things up without losing any of the flavor."
That's where seafood plays a key role in her diet.
"I love the flavor and healthy aspects of seafood," she said. "And seafood is so versatile. You can pair it with a number of other things, like veggies."
Seafood doesn't need to be served naked or left with a bland or fishy taste, Tracy said. A little flavoring adds a great deal to the meal.
"It makes a really big difference to add the right herbs and seasoning," she said. "We have a herb garden in our back yard, or we go to Hy-Vee or a local farmers' market. The right herbs can make it a real game changer."
When it comes to herbs, Tracy holds her definite favorites.
"Cilantro is my favorite because of its smell and taste. I also like basil," she said. "You can pair it with a fresh set of greens."
Adding Some Zip
The Huffs' children, Nathan and Abby, sample the spread in their kitchen and give the meal a "thumbs up." They enjoy not only clams and mussels but also other types of seafood.
But the seafood wasn't the only star of this evening's gastric gathering. The Huffs decided to put a little zip into things with a combination of spicy and cool opening courses.
Since we last gathered, the Huffs welcomed a new addition to their family — another smoker. And they were putting this little baby to good use.
The Huffs have used the smoker for everything from meats and veggies to soups, stews and carrot cake.
This time, they smoked six ears of corn on the cob, in the husk. But doesn't that dry out or burn the corn or even start the husks on fire?
Au contraire, Steve said. "It's not what you expect. It actually keeps the moisture in the corn," he said.
He soon proved his point, hauling out the husk-covered beauties. He later emerged in the kitchen with a long, freshly smoked ear of corn — but no butter for this baby.
Instead, he encouraged me to take pinches of a nearby spice and rub it on the corn.
"You should start with just a small part of the ear," he advised. "If it's too much for you, then you can move quickly to a plain square of corn. And you may want a glass of water nearby."
Good advice on both counts, After finding some kick in the first bite, I resorted to both the plain corn and something to drink.
After savoring — or surviving — this culinary surprise, I found myself wanting more. I slathered the spice on the corn, as if not getting enough. I didn't stop, instead working my way through the entire ear without coming up for air.
It was a fiery little number but very satisfying.
Tracy took over from there. She turned the remaining ears on the end, cutting strips of corn off the cob. They were destined for another opening course, but I couldn't put my finger on it.
"We're using it for salad," she announced.
I had spent enough time in the Huffs' kitchen to know their idea of salad goes far beyond a lettuce wedge. For them, salad can range from fruit and carrot wedges to a bed of greens adorned by fresh toppings.
"We're going to create a bowl filled with corn, red onion and peppers," she said. "We also have the poblano peppers that we smoked, but we didn't put the seeds into the mix for this batch because we wanted to keep it milder."
Steve noted a couple of practical advantages of this salad.
"People really like cole slaw and potato salad, but those are mayonnaise based and spoil quickly," he said. "This salad is much lighter and fewer calories. And it can be stored cold because it's pure vegetable that lasts for days."
But the fiery corn salad wasn't the only star. Steve pulled out a container filled with a mashed green concoction.
"This is split pea guacamole that you can spread on grilled bread and top with thin radish slices," he said. "You take two cups of frozen peas, which are cooked until they turn soft. They're mashed and mixed with fresh mint and lemon zest."
Our Just Desserts
We moved from one course to the next, eating a great deal but not feeling weighted down. That turned out to be a good thing with one more surprise awaiting us.
Just when you thought it couldn't get any better — it did.
Tracy has shown a flair for desserts. "I like to follow the recipe of people like Jessica Seinfeld," she said, referring to the celebrity cook.
In the past, Tracy has rolled out everything from brownies to carrot cake. In keeping with the meal's theme, she kept things lighter with cookies and toffee.
Steve enjoyed wine with his seafood meal, but he paired the toffee with a cognac for good conversation under the stars on their patio. He enjoyed a good cigar as part of the ambience.
Tracy stayed with her favorite, a cabernet, during the evening.
"I'm not concerned about associating wines with certain meals," she said. "People say you should go with chardonnay with fish and seafood, but I stick with cabernet. I like it with any type of meal."
Steve agreed, saying it reflected his philosophy.
"You should never feel obligated to certain things," he said with a smile. "Life is too short. There are times you just have to do what makes you happy."