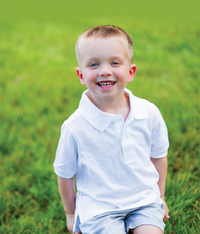 Naomi Cuka thought it was odd when a discolored circle suddenly appeared on the stomach of her 12-month old son, Westin. Thinking it might be ringworm, she brought him in to see a pediatrician, who thought it was a developing birthmark. Six months later, Westin had his 18-month checkup in Oceanside, California, where they were living while her husband Jim was stationed there. She mentioned Westin's birthmark to that pediatrician and pointed out another one developing. As they both looked over Westin's body, they found a few more small spots. The doctor determined that they were café au lait spots and explained that they are caused by a neurological disorder. By the time of his 2-year checkup, Westin had more spots and was also developmentally delayed – he said only a few indistinct words and he wasn't walking yet. They were referred to a neurologist in San Diego and he wanted her to monitor the progress and come back in a year for follow-up.
Jim retired from the military and the family moved back to South Dakota. They took 3-year old Westin to a neurologist at Sanford Hospital in Sioux Falls. By this time, Westin had over 6 café au lait spots on his body. He was diagnosed with Neurofibromatosis type 1 (NF1) after having qualifying factors to make the diagnosis, including the café au lait spots and delayed development with crawling, walking and speech.
Naomi tried to absorb the information to relay it to Jim, who couldn't attend the appointment. Nervous that she wouldn't remember everything, she found some relief when they sent her home with information, though not as much as she wanted to know. They advised her that if she researched the topic on Google, not to look at any pictures which could possibly give her the wrong impression. The first couple days of the unknown for Naomi were nerve-wracking.
Desperate for more information to help ease her anxiety, she finally called a doctor to find out what more she could do. She also hesitantly typed the words in a Google search, vowing only to look for information. She found the Children's Tumor Foundation, which had an abundance of material for those newly diagnosed and ways to explain the diagnosis to family and friends.
"It was such a lifesaver to me, because as a mom, I was like 'We don't know anybody else with this.'"
Naomi and Jim didn't tell anyone about the diagnosis yet; they wanted to understand it better before explaining it to anyone else. She became involved more in the tumor foundation and as she understood more about NF1 she started posting information on Facebook. After people began asking her about the posts, she and Jim started to share Westin's condition with them.
As I glance at the Children's Tumor Foundation website, https://www.ctf.org/, I find their definition of the condition.
"Neurofibromatosis type 1 (NF1): Formerly known as von Recklinghausen NF or Peripheral NF, is the most common of the three types of neurofibromatosis and is also one of the most common inherited neurological disorders, affecting about 1 in 3,000 people throughout the world. The disorder is characterized by multiple café au lait (light brown) skin spots and neurofibromas (small benign growths) on or under the skin, and/or freckling in the armpits or groin. About 50% of people with NF1 also have learning challenges. Softening and curving of bones, and curvature of the spine (scoliosis) may occur in some patients with NF1. Occasionally, tumors may develop in the brain, on cranial nerves, or on the spinal cord. While NF tumors are generally not cancerous, they may cause health problems by pressing on nearby body tissue. Sometimes a benign tumor may become malignant (cancerous), but most people with NF1 will never develop a malignant tumor."
Naomi's passion about understanding the condition grew and she strived to inform others. She has been involved with the Children's Tumor Foundation for about 2 years and is now part of their leadership, serving as a volunteer coordinator. Because she sees that NF is under-recognized, she would like for more people to be aware of it.
In 2019, she was able to obtain a proclamation for the State of South Dakota for May as NF Awareness Month and is in the process of one for Yankton for May 17th as Shine a Light on NF Day. The 17th of May was chosen because NF affects the 17th chromosome.
There's been several sources of recognition using blue, the color that represents NF. Sioux Falls' Falls Park, Mitchell's Corn Palace, Yankton's water fountain on 4th and Broadway and the fountain in Yankton's Westside Park pond have all been lit up blue on occasion. Additional displays this year will include the Arch of dreams in Sioux Falls and a location along Walnut Street in Yankton. They were supposed to have their first ever Walk for NF in South Dakota on June 6th in Sioux Falls, but unfortunately the current Covid-19 pandemic has pushed this event to the fall.
She enjoyed spending time at the Volunteer Leadership Conference for NF held in San Francisco last year, where she met other parents and volunteers who have the drive to educate others. "I'm just hoping that someday I will help fundraise and raise that dollar that helps fund a cure or inspires someone to go to medical school to find a cure," she explains.
She describes Westin's condition further. There are two different ways to get NF, either through genetics or spontaneous genetic mutation, which is how Westin developed his. The condition can cause several obstacles, Naomi explains how Westin didn't gain weight for 3 years. "We've finally gotten over that, he's gained 3 pounds in the last year which is really amazing," Naomi states with relief in her voice. He eats just as much as any other growing boy, he is just delayed in gaining weight and growing, which is apparent in his shorter stature.
Annually, Westin gets his eyes checked and visits his NF specialist and an endocrinologist to monitor for other side effects from the condition. Tibia bones could bow and there are risks of blindness, deafness and other bone abnormalities. Westin does not have any tumors, just the café au lait spots, now more than 40 of them and several other "freckles." He has experienced some hearing difficulties and has developed two small curves on his spine. He has some learning disabilities and is scheduled for a brain MRI soon to evaluate speech and behavioral issues.
Westin, now 6-years old, has experienced some challenges as he's adapting to Kindergarten. He seems to get frustrated when people can't understand him and has displayed uncharacteristic behavior, possibly from the adaptation to a large class size. His biggest challenge is probably speech. At age 3, he was saying about 20 words before they got him involved in early intervention and speech at Stewart School. "I feel like this was a huge, tremendous help," Naomi states. They found that trying different techniques at home and being around other kids at school has helped Westin to come a long way in a year and a half.
As Westin gets older, the family will monitor the curves that have developed on his spine. They will also observe closely for tumors, especially as he hits puberty as it's highly likely that someone with NF1 will have at least one tumor in their lifetime. It could show up anytime and some don't develop them until adulthood. The tumors, located on the nerves, are only removed if painful or are causing difficulties.
Westin has two siblings, a 12-year old brother, Evan and a 4-year old sister, Paisley. Though he is two years older than his sister, they are so similar in size that many ask if the two are twins. The siblings do very well with the family dynamics, and she explains how Evan is very helpful with his little brother, helping him get on the bus and watching out for him. Westin is like any other student, riding the school bus and taking traditional school classes, along with help from speech therapy and the resource room. Naomi explains that he lives a fairly normal life, but some days are a little different. He's an active boy who loves to bowl when he can and has started playing t-ball. Though smaller and slower than others, he still goes out there and gives it his best shot.
I asked her about Westin's personality. "He has the biggest smile, and he really lights up a room." Though I can't see Naomi due to the interview being over the phone, I can tell that she's wearing a huge grin as she says this. "He gets very excited and passionate when he wants to show you something. He is a genuinely sweet kid."
Naomi is extremely grateful for the Children's Tumor Foundation and explains that they have a lot of resources for those that newly exposed or those just curious about it or want to get involved. "There's so many resources out there, all over the country, for people to get involved in the state where they are located. It was such a blessing for me to find them. It made me not as scared or stressed and just made me feel not alone."