This summer held more adventure than usual for the six Yankton High School students and their teacher, Mrs. Kaiti Ladwig. They traveled to Tanzania for a service learning trip that began June 10 and ended on June 20th. The Yankton ladies flew out of Sioux Falls airport, and met up with another high school group from the Island Pacific Academy of Hawaii in Amsterdam. The combined party of Americans then landed at Kilimanjaro International airport in Tanzania and travelled by bus to the community they would be working with in the Arusha Region at the base of Mount Meru.
With Kaiti Ladwig in the lead, the participating students were Grace Liebig, Chloe Reardon, Kelsie Faulk, Milena Nedved, Leola Felton, and Sawyer Marts. The girls held fundraising activities throughout the year to help generate the money needed for the trip. These included a car wash, Valentine's Day Grams and candy sales. Most of the students needed family financial support also.
Kaiti has a well inked passport with stamps from Haiti, Cambodia, and the Dominican Republic. She has lived abroad in London, and visited forty-six of the United States states. This was the first time out of the country for almost all the students however, and the first experience flying in an airplane for two of the girls. During the school year, Kaiti held monthly meetings to teach the group about Africa and what to expect on their journeys. This is Kaiti's third service trip, she's had prior experience on others while attending high school and as a college student at USD.
Church based mission trips and educational service trips both focus on helping underdeveloped countries in a personal way. They both foster friendships and directly help communities in sustainable ways, but there are definite differences between a mission trip and an educational service trip. Traditionally mission trips have always been faith based, with a primary focus on spreading religious education. Kaiti says that, "We were a service trip and it's all about community involvement and providing a helping hand to the direct needs of a particular community. A mission trip is faith based and provides service, but we go beyond that. We are taught lessons, challenged to be a part of the community, and we focus more on global presence and becoming an ambassadors for global awareness. This is a hands up, not a hand out."
Tanzania is located in East Africa, and is about twice as large as the state of California. It's next to the the Indian Ocean to the east, and has borders with eight other surrounding African countries. True to its exotic name, Tanzania has a diverse population of over 49 million people with varying cultures, religions, and languages. There are 120 ethnic groups, and each has their own dialect. The two official languages are English and Swahili. The local children were much more proficient in English than their elders, and had endless questions for the Americans. Some were personal. They were astonished that Kaiti's husband and the girls' families allowed them to go on such an adventure unchaperoned. They also wanted to know why the male teacher from Hawaii was unmarried and had no children. They asked him what was wrong with him, the Americans could only chuckle in response.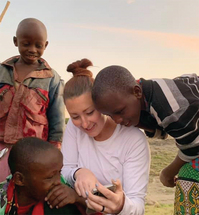 The Americans lived in large, green, canvas tents and slept on metal cots with blankets (called shukas) and sheets. The teachers and group leaders had individual private tents. Kaiti strongly encouraged her students to disconnect from their cell phones, and be completely present for the experience instead. The group woke up early every morning at seven thirty and ate breakfast at eight o'clock. The girls shared that the food was very good with a lot of rice, fruit and vegetables. They all agreed that they were extremely well fed, and a couple girls actually gained weight while on the trip and needed to buy bigger pants when they got home!
The itinerary for the trip was packed with activities. Twenty hours were spent in hands on community service, working alongside village residents. For three days the group learned how to make cement slabs to be used in building walls and floors for a school or library. Another day's task was making a new boma hut for the village. The building materials gathered were: ash, manure, dirt, water and sticks. The work is done mostly by hand. These huts are often used as community kitchens. When the Americans visited a local woman at her home afterwards, all were amazed at how clean, cool, and good smelling the hut was. Tanzanians often use small pieces of glass, metal, and other found objects to create beautiful artwork to decorate the insides of their natural homes.
The education piece was a prime component of the trip. The YHS students were immersed in Tanzanian culture with daily lessons in the Swahili language, playing sports and games with local children, and learning how to bead jewelry from the elderly "mamas" of the community. They practiced Maasai weapons training and learned how to throw a traditional conka, and shoot arrows. There were many team building activities too.
A lot of time was devoted to the topic of water conservation, since it's a global concern and directly impacts the country. This is easy to take for granted in the US, but almost 70% of Tanzanians live in rural regions, and only 44% of them have access to improved water sources. The students heard some startling statistics such as: 3.75 million people die from water related diseases each year, and every ninety seconds a child dies as a result of illness as common as diarrhea from contaminated water. There are now more cell phones in the world than toilets. The visiting Americans developed action plans on changes they would make in their personal water usage. Some decided to take shorter showers, others will stop buying water in plastic bottles, and a few would catch rain water in barrels for plants. All planned on spreading awareness about water to others back home. Kaiti states, "It's important for us to understand, why does it matter to America what happens in Africa? What can I do in South Dakota to help the world? Learning about other cultures changes you. You make connections, and hopefully you care about your actions."
An activity that taught the necessity of the daily quest for water, was a special trek they took on day three of the trip. The students walked with local women to help fetch water for their homes. The women would usually go several times a day, walking five to seven miles each time. The community women balanced their babies on their hips and bellies, while simultaneously carrying huge plastic jugs of water on their backs. The containers held up to forty pounds. Homemade course rope made of braided sea salt plants helped stabilize the water jugs. Parts of the rope went around the jug and across the carrier's forehead. The Americans found this very difficult and would often trade places every few hundred yards with their partners. Taking turns hauling their precious cargo, made the water walk much easier.
One of the main things that surprised the students, was the lush beauty of the landscape. They were expecting the stereotypical arid desert. But Tanzania is bordered by three of the largest lakes on the continent, and home to a fifth of Africa's largest mammals at national parks such as Lake Manyara Park. Approximately thirty eight percent of the country's territory is dedicated to game preserves, conservation areas, and many national and marine parks.
The Americans were treated to see this paradise for themselves when they went on a safari in the Tarangiri National Park. June is actually the winter season in Africa, and the safari guide told them to pray to see animals. He jokingly guaranteed that they'd see grass and trees. The prayers were well received and the tourists were rewarded with a veritable parade of animals. They saw the expected giraffes, monkeys, zebras and elephants, but they also encountered warthogs, dik-diks and komodo dragons among many others. The wildlife was happily abundant, and many of the animals had their babies in tow. A cheetah sighting was especially memorable, because they are typically nocturnal animals.
The final night of the trip there was a huge shared dinner, with much laughter, singing and dancing by all. Saying good bye to their new Tanzanian friends was tearful. The Americans had been cared for so completely and kindly by the Arusha community right from the start. Kaiti felt it was very important to note that, "from the moment we stepped off that plane and onto that bus, every single person from Tanzania that was involved with the Me to We organization, said to us 'We are going to take care of you like you are our family.' They were all so extremely nice. I think the world could learn a lesson from the people of Tanzania Africa." The other YHS girls were quick to agree and said that they felt safer walking alone at night in Tanzania than they would back at home, and that there was "zero negativity from the community." All the Americans enjoyed the Tanzanian's sense of humor and love of play. One of the students remarked to her parents, "They have so much less than us, but they are so happy!" The group knew that this was a trip of a lifetime and most likely they would never see their Tanzanian friends again.
Fortunately, the memories and learning gained by everyone from both continents, will never be lost. The Yankton High School students expected an education from the service learning portion of the trip and lots of adventure, but came away with so much more. Kaiti repeats a message that's been a constant: "You can learn a lot by being involved. It's more than sight-seeing. We are engaging. We are participating. We are part of this community." Grace Liebig's mother expressed what many of the other parent's must have felt when she thanked Kaiti profusely and said, "As a parent, I am so happy for them to have had the opportunity to travel. I would work as hard as I needed to, to make that happen again. It was such a great experience for them!" Kaiti Ladwig looks forward to participating in more trips in the future, and giving many more students the opportunity to receive a cultural education they could never duplicate in the classroom.