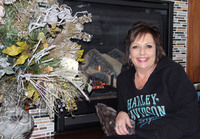 A self-taught graphic artist, Kathy Pritchard has shared her talents with the Press & Dakotan for nearly 31 years. She welcomed me with a warm, friendly smile to a conference room at the Press & Dakotan office to tell me about her time working with the newspaper.
The Minnesota native attended Mount Marty College in Yankton where she met her first husband, Mike. The couple settled in Yankton and added two children to their family. Sadly, Mike passed away eight and a half years ago in an accident, leaving Kathy and their two children behind.
"One of those things that you never think will happen but when it does it changes your whole life," she reflects. After being married to him for almost 24 years, it took her time to recover but she stayed focused on her priority of getting her children through high school and college. She explains how it revealed a new outlook on life.
"I don't take things for granted like I used to. I think you value your friends and family more and not take them for granted. You kind of see stuff in a different perspective."
Her children are now grown, and her daughter has blessed her with two granddaughters. She added even more members to her family when she met Elvin and they married a year and a half ago, welcoming three children and four grandchildren into the group.
"We're the Brady Bunch," she laughs.
Initially intending to go into a career in the medical field, she sought out the field of Respiratory Therapy. She enjoyed her training, though one thing held her back: she hates needles. She laughs as she explains that during clinicals she realized that she couldn't continue in the profession.
A good friend of hers, working in sales at the Press & Dakotan at that time, encouraged her to apply for an open proofreader position. She was hired for the position and remembers her first task of drawing out a Boy Scout ad, something she's never had any experience in before.
"I had no idea what I was doing, and here I am!" I laugh as she exclaims. She describes that job in the advertising department, where she proofread all the ads and ran tear-sheets out to the businesses that advertised in the paper. She was also responsible for laying out the Chuck's Jack & Jill grocery ad. She later moved into the composing department and started designing advertisements. Because there were no computers at that time, she designed ads by manually cutting and pasting to create them.
When technology advanced and brought computers into the business a few years later, it wasn't an easy transition for her. When she was put in front of a computer and instructed to learn how to use it, she reflects on her initial reaction. "Oh….ok. I don't read directions, so this is going to be a trial and error!"
Fortunately, Pritchard adapted to the technology as it became a staple in her career and admits that computers have made her job much easier. She has learned even more techniques over the years from attending various classes and also others in her department as they are new graduates of graphic design.
Pritchard took on additional roles when her production manager retired. His position, which oversaw the pressman and the composing department, was split into two separate roles. Kathy filled one position and became composing manager, in charge of the graphic artists. She and two other ladies handle all the different publications including the Missouri Valley Shopper, The Broadcaster, Plain Talk, the Press & Dakotan and Her Voice/His Voice magazine just to name a few.
She enjoys the variety in her work with the mix of magazines, newspapers, business cards and flyers. A deadline-driven role, she finds that meeting deadlines is most challenging and describes the most crucial attributes to have are organization and prioritization. She's discovered that her work family is what makes her job so rewarding.
"Everybody here is my second family," she beams.
She enjoys attending music concerts with her husband in her spare time. Not always having been a concert enthusiast, or even a fan of current country music, she had attended only one concert prior to their courtship, seeing Styx perform at the Sioux Empire Fair with her daughter. She soon caught his passion for attending the music events and the two of them have traveled to see many artists perform, including Kenny Chesney, Jason Aldean and Florida Georgia Line just to name a few. Having attended several spectacular events, she has a hard time picking a favorite, but puts Garth Brooks and Luke Bryan at the top of her list.
She also enjoys riding motorcycle with Elvin. They impulsively purchased a Harley Davidson a few years ago when Elvin spotted a great deal on the bike, though she didn't see much use for it at the time.
"What do you want a motorcycle for?" She explains her initial reaction. "We're never going to use it. It's just going to sit there and be a waste of money." She laughs about how wrong she was. "Oh yeah, we go out all the time," she grins.
They travel often around the area on their bike with friends and spent some time riding through the beautiful, scenic routes in Black Hills, South Dakota with her son last fall.
"I never thought I would enjoy it as much as I do." She laughs as she explains that she's usually the one that suggests they venture out for a ride. She appreciates nature's beauty in this area and often spends time on their boat and four-wheeler, taking advantage of Yankton's features.
"I like being on the river and the lake. I think when you've been in one place for so long, it's hard to move away from it," she reflects.
Thirty years in her profession has taught her patience, organization and prioritization. She and her co-workers use various tactics to add fun into their day, doing the 'copier dance' together and playing pranks on each other. She laughs, recalling some of the previous pranks she's been involved in.
"It's been a fun place to work. Even when we're busy getting things done, we still have our fun times."
Pritchard has set her sights on someday winning Publisher's Clearing House and volunteering for flower deliveries at the hospital. When you're this busy, you need to assure that you're organized enough to allow yourself to have some fun. Her smile, upbeat personality and fun-loving nature prove that she has certainly accomplished this!