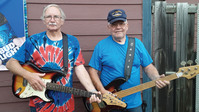 Ernie and Gary Gullikson would probably never have guessed that they would still be rocking live music to happy audiences for over fifty years, but that is what they do indeed. The brothers play regular gigs all over the local Nebraska and South Dakota area, and have to turn down more requests than they can accept. Born near Wagner, South Dakota, they are two of five brothers with two additional sisters that were raised on the family farm. Ernie believes their love of performing stems from fond childhood experiences. He shares how, "Way back when we were growing up, people would take turns travelling to each other's farms.
They would move all the furniture out of their dining and living rooms to entertain each other. My oldest brother, Raymond, would be playing the harmonica, other folks that had instruments would bring them, while everyone else would be singing and dancing and carrying on. A lot of people were musical. It was all ad lib, a heck of a good time!"
Ernie recalls them being heavily influenced by their mother, Muriel's, singing and rhythm guitar as a child. "She was an incredible a singer! She played and sang for her own enjoyment, even while doing chores like making a lemon meringue pie, and we kids would sing right along." The family listened to an old battery-operated radio and tuned into the Grand Old Opry in Nashville, Tennessee. This was before the family farm had electricity. Muriel encouraged Ernie to give his first public performance when he was just six years old. He happily sang acapella for the neighbor ladies in the area.
It was "sometime in 1967 or thereabouts", that the brothers: Cliff, Ernie, Gary, and their brother-in-law; Bernell St. Pierre, were all hanging out at Bernell's house one evening when they thought it might be fun to start up a band to entertain their family and friends. Ernie had a friend named, Leonard Melmer, who was the owner of the local VFW in Wagner at the time, and called him to see if he'd pay them to play there. Melmer agreed with his first available opening on May 1st, 1967. The men decided to name their band "The Travelers", because they planned to go many places to perform.
As incredible as it seems, Ernie and Bernell had to learn how to play their instruments in one month's time. Cliff and Gary both already played rhythm guitar, but Ernie would play base and Bernell the drums. Everyone sang vocals except Bernell. The day after the men learned they had booked their first performance, Ernie and Bernell went out to buy their instruments. Ernie bought his used Kingston guitar from Lanny Mollet, the owner of Mollet's Music store in Yankton. Ernie recalls, "We practiced every single night at Bernell's house. The first two or three weeks we were about ready to kill each other, but by the fourth week we started sounding good, and by the fifth week we were ready to play." The men had to learn how to play the popular songs that everyone heard on the radio. All were self-taught musicians that couldn't read formal sheet music, as was common for the time. The Travelers would listen to records over and over, and then practice until they got the songs down.
Their very first paid performance was a four hour gig. The men got paid a whopping $15 a piece, with the perk of all the free beer they could drink. Ernie jokes that, "That was one thing we always made sure of, we got our beers for free. I think we got the better deal!" Ernie recalls that, "It was such a good time. We played a lot of house parties and benefits. Everyone got along and had a lot of fun. People would sing at their personal parties, when they wouldn't anywhere else. Nobody judged anyone else's singing, and everyone got along." The men were all married and in their twenties except Gary, who was only sixteen. The band member's wives would often come to their performances, and would dance in the audience while they their husbands played onstage. One year the Travelers were booked to play every single Friday and Saturday, for a year straight at the Mint Bar. Ernie recalls, "It was great, we never had to move our equipment." For many years now, the Mint has been known as Boomer's Bar in downtown Yankton. The Travelers were in demand and had regular bookings in many small towns at establishments outside of Yankton and Wagner.
As the men grew older and were raising their children, they became busy working their full-time day jobs. The band members naturally drifted apart. This was around 1976. Gary enlisted into the Army with a specialty in communications. He got extra work playing with bands six nights a week for a club while stationed in Okinawa, Japan. Gary recalls this as one of the best eighteen months of his life.
During this time and after Gary returned to South Dakota, the other brothers played with other various bands too. Ernie and Gary played for a band named "White Lightning", while Cliff played with the "Westerners", and a few other bands. Cliff was eventually inducted into the South Dakota Country Music Hall of Fame. Then around 1980 people started asking for Gary and Ernie to play music for their events. The brothers began playing regularly together again with their brothers Bud, Cliff and Gordon, joining in for vocals from time to time. Sometimes they would jam with other guest musicians as well.
When the Gullikson brothers play at their annual family reunions or shindigs, it is common for Ernie's sons, grandchildren and other relatives to take turns at the microphone. Family friends are welcome too. A regular tradition that marks the end of a family gathering or concert is for many family members attending to go onstage to sing the closing song together.
One regret Ernie has, is that he did not keep track of all the dates and names for all the weddings, parties, and celebrations they played for all those years. "People are always coming up saying, "I remember you guys playing at my parent's anniversary party, or someone's birthday, get together, etc…" Ernie says, "A piece of advice I would give to anyone playing now is. "Keep good records of all the dates and places you play, because some day you're going to love it and be so thankful to have it."
In the last few years he and Gary play a little less frequently and stay a little closer to home. Ernie has been working for Sacred Heart Monastery since 1988. Instead of their four hour shows, they now usually play around three. "I've got to slow down sometime." Ernie quips.
The Gullikson Brothers Band is still available for private parties, local events, and benefits though.
They also play regularly at their old stomping grounds. One of these is the refurbished Kozy's bar off SD 50 in Yankton. The Gulliksons often played there during the twenty-eight years that Lawrence Kozak owned it.
Now that his granddaughter, Kristen, has reopened it, the Gullikson Brothers are rocking their old tunes once again. One of Lawrence's favorites is "Come a little Bit Closer" by Jay and the Americans. For this ditty, Lawrence always dons an old sombrero, and fringed poncho, and plays his one stringed guitar while crooning along with Gary and Ernie.
The men have been life-long friends, and it's a true pleasure for all to witness.
The Gulliksons prefer to play what they call "The old time country and rock and and roll music." They play covers from favorite artists such as Johnny Cash, Merle Haggard, Three Dog Night and Charlie Pride.
A signature song of theirs that is constantly requested is, "Mule Skinner Blues" which was originally written by Jimmie Rodgers. Ernie enthuses, "We'll play just about anything that people like. We do our best to try a song on stage and if it's not perfect that's okay, we'll try it again the next time until we get it right." Gary shares, "If we weren't having fun, we wouldn't still be doing this." Ernie adds, "When I was a young kid running around town here, I'd see bands and I knew that someday I wanted to be up there on stage like them. There is no feeling like when you are standing on stage, and you are looking out at the audience seeing people singing along and having a great time! When the crowd is having fun, we're having fun."