Getting married has long been considered to be the easy part of marriage — not so much anymore.
Due to the COVID-19 pandemic, many of 2020's brides are finding that having a wedding is a huge challenge, one that each couple must meet in its own way.
Taylor Kathol and Brady Vaughn had been engaged since Easter 2019, and were planning a June wedding when the novel coronavirus arrived in the U.S. and changed everything.
"Once everything started shutting down, we figured that once April hit, we had to make the decision if we were going to keep the date," Taylor told the Press & Dakotan.
"We have family from everywhere and we wanted them to be comfortable and healthy and to not have to worry."
In May, the couple decided to move the date of the wedding to October — and wound up changing just about every aspect of their original plan.
"We had to completely switch everything: location, venues, churches," she said. "We were going to be in Sioux Falls and now we're going go to Yankton."
Luckily, there were no serious issues with any of their deposits, she said, but even now the October plans aren't completely hammered out.
"This week, we just realized due to our priest's comfortability — in Yankton at Sacred Heart, which is where I was raised and grew up — he wants to limit it to a certain amount of people," Taylor said. "He doesn't know what's going to be open in October, so he's thinking pretty limited."
Because the couple expects 250 people to come to the wedding, they decided to check out Yankton's St. Benedict parish next.
"We are meeting with that priest on Saturday to see what we can and cannot do, but his rules are a little less strict than Father Larry's," she said. "Father Tom, I believe is open to as many people as could come — I think it's 250 that can come — whereas at Sacred Heart, it would be a lot less."
Though the wedding is on track for October, the experience was scary and heartbreaking, Taylor said.
"Everything started shutting down and (my) parents said, 'We may need to think of other options,' and I think, 'What?!' This has been my dream ever since I discovered boys — which has pretty much been my whole life," she said. "I've probably thought about my wedding, at least -- I kid you not -- twice a day, since I've ever been to a wedding."
Her fiancé was definitely more understanding about having to reschedule, she said.
"I've been a flower girl and a train bearer and many bridesmaids, and you always are like, 'Oh, I'm next, I'm next!' and when you're getting close, it's like, 'I'm almost there!' Taylor said. "Then they say you have to postpone for another 180 days and it feels like forever."
However, having gone through it, Taylor and Brady believe that the change in plan was meant to be.
"We're supposed to get married in October," Taylor said.
"Everything previously wasn't lining up as perfectly as what it is now.
This was supposed to be rearranged somehow."
As the country braces for the possibility of another wave of COVID-19 in the fall, Taylor does not plan on giving up and going to Vegas, she said.
"I want the dream," she said. "I've waited 25 years for my dream and I will wait until I can have it. I've already found my dream man, now we just need the dream date."
-----------------------------------------------------------------------------
Tessa Bauer and Matt Schmitz got engaged in May 2019 and had planned a May 2020 wedding.
"My bachelorette party was St. Patrick's Day weekend," Tessa said. "We ended up officially postponing that next week, because, by then, the churches had closed and everything was sort of starting to crumble into … this."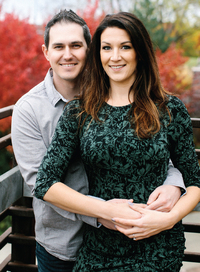 The wedding was mostly planned and they were just waiting for the day, when everything began to shut down due to the pandemic.
"The Diocese of Sioux Falls sent out an email that they were closing the churches until further notice," Tessa said. "The courthouse in Sioux Falls closed, so we couldn't even go get our marriage license."
It was clear to the couple at that point that the COVID-19 situation wasn't going to just blow over.
The RSVPs were due, and some of the guests would be travelling from Texas and California and Tessa and Matt decided to call it, she said.
"It was more stressful the week that we were sort of debating canceling than once we officially decided to cancel," Tessa said. "Then getting everybody moved to another date was very stressful, but once that was all done, it was, honestly, less stressful."
Tessa and Matt's alternate wedding date is also in October and worked out well in the planning.
"We just sort of moved everything and we got very lucky and found a date that all of our vendors were available," she said. "So that worked out really well for us. I mean, better than you would think."
Because of Tessa's job, cancelling worked out well in other ways, too.
"I work in ethanol testing -- and so we got very busy trying to do hand sanitizer testing," she said. "It was nice that I didn't have to be dealing with a wedding."
Tessa describes herself and Matt as very go-with-the-flow people, adding that she has not been planning her wedding since she was a girl.
"And thank goodness I'm not, because I don't think that 2020 is working out for most of us, brides," she said. "But once we made the decision, it was like a weight lifted."
One thing the couple did not postpone was the gift they planned to give each other: a puppy.
"She's here now, so now, we've done the baby-before-wedding thing," Tessa said. "Now, we're like parents who are also trying to plan a wedding. So that's also a different dynamic than we had originally planned for."
----------------------------------------------------------------------------
Leslie Johnson and Lucas Boyle had also been planning their July wedding since last year. While visiting family in Florida in March, the couple watch in shock as the COVID-19 shutdown began in earnest.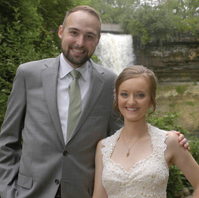 They had been planning a large wedding in Cottage Grove, Minnesota, a venue that could accommodate up to 300 guests.
"We contacted the venue and they said, 'Well, we're hoping that by then, things will be back to normal," Leslie said. "Over the next few months we realized that it wasn't going to be possible and it wouldn't be safe."
"We decided we were going to keep July 11 and do a little ceremony," she said. "With the larger venue, we scheduled a reception, a larger affair, next year in August."
A pavilion at Minnehaha Falls in Minneapolis that was originally planned for dinner the Friday night before the wedding, became the wedding venue.
"We decided we would use that venue on Saturday, so it was in the open air at the park," Leslie said. "For a while was, 'Alright, you can have 10 people at the event,' which we were a bit worried about we couldn't have our siblings and parents and get under 10 people."
As the weeks unfolded, the maximum group size for the pavilion, which ordinarily would easily hold over 200 guests, rose to 30, a large enough number to accommodate both families for a small ceremony.
"The day before, we had a small, little gathering at Lucas' parents place, outside in their yard," Leslie said. "Saturday, we had the wedding at the park where Lucas and I did a first look at Minnehaha Falls and then went to the pavilion."
Conveniently enough, the pavilion's picnic tables could be arranged to form a center aisle for the bride to walk down to the groom and the officiant of the Hennepin Methodist Church who performed the ceremony.
"After the ceremony finished, we actually did kind of a little loop around the pavilion and then we all had Indian food and just sort of enjoyed," Leslie said.
The original plan had relied on caterers, bakers and florists, who were not available at that point in the pandemic, so family stepped up and provided the essentials, making the intimate gathering extra personal.
"At the first venue, we had to go with a licensed baker," Lucas told the Press & Dakotan. "Leslie and I met over rhubarb pie. So this time around, we got to have my siblings help us make 10 pies. We had rhubarb pie and pecan pie, and got to cut the ceremonial pie."
"Rather than having an official florist, my mom, who has taken some of the flower arranging classes, I think offered through Hy-Vee, spearheaded the florals for this," Leslie added. "She and my sister, Laura, went to a warehouse in Minneapolis where you can buy bulk flowers and then did all the bouquets and boutonnieres. It was beautiful."
The pavilion was rented from 4 p.m. on, with the ceremony set for at 5 p.m.
"Everybody, when they arrived on the site, helped with the decorating," Leslie said. "It was all hands on deck, people covered up tables with tablecloths and put bows on the pavilion, and Lucas' friend delivered the Indian food."
Also, the bride's sister's husband played all the music.
Ultimately the evening was more intimate than it would have been with a larger group, and more relaxed, Leslie said.
"From the get go, when we were planning the wedding, before COVID, before any plans, we said, 'Regardless of wedding stress or how things go the day of, if at the end of the day we end up married, then that's the most important thing,'" Leslie said. "I don't think at the beginning we quite realized how much would change for the actual wedding day, but at the end of the day it was really just wonderful."
Ultimately, the smaller wedding ceremony truly highlighted the couple's unique relationship, Lucas said.
"This was completely personalized and we wrote our own vows, and those became one of the biggest highlights of the event," he added.
"It was sweet that our relationship and the commitments, the marriage, could be the big things for the day."