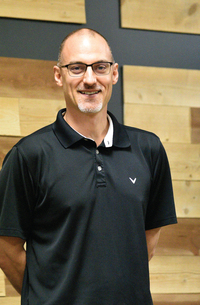 It's not obvious.
He masks it well.
Yet, it's there. The pain is deep. It's fresh.
As you sit and chat with Eric Lotz, however, you wouldn't realize it. As the pastor of New Life Church in Yankton sits down at a large oval-shaped table in his office, he begins sharing how he and his seven children have adjusted to a recent tragedy in their lives.
His wife, Jennifer, passed away in May from glioblastoma, an aggressive form of brain cancer.
"It's been a messy journey, but I feel like it's been guided," Lotz said during an interview one September morning.
"We've followed in God's path and trusted in Him. We know He has a plan and a purpose for our family."
In mid-March, the Lotz family — Eric, Jennifer and their seven children (ages 20, 18, 16, 14, 12, 9 and 7) — had been planning a move to Yankton after Eric was offered the position with New Life Church.
They were ready to embrace life in a new home.
Then came March 22.
Lotz was down in Haiti, putting the finishing touches on his effects in a country where he lived for the previous 12 years. He received an upsetting phone call from his oldest daughter: Jennifer had suffered a seizure at home. Most alarming was that she had displayed no previous symptoms of anything being wrong, according to Lotz.
Even in those scary moments where Lotz realized he needed to return to the family's home near St. Louis, Missouri, he said he leaned on his faith.
His daughter, Daphne (who had been adopted from Haiti), has a genetic condition called Angelman syndrome, which can cause epileptic seizures. As such, her siblings knew what to do. They knew what to do when their mother suffered a seizure.
"Some might call it a coincidence, but I call it the grace of God," Lotz said.
Unfortunately, Jennifer's condition rapidly regressed.
It was discovered that she had four tumors, according to Lotz — "Very few people survive that," he said. "Hers was very aggressive."
Jennifer was admitted to hospice care on April 28, two days after starting a treatment, her husband said. She passed away on May 6, with her husband and children at her side.
"We had lots of time to grieve together," Lotz said. "Even in those dark days, we tried to take advantage of every day we had together. Not everyone gets that. At least we had time with her."
— — —
Helping people overcome challenges, whether physical or spiritual ones, is what Lotz has devoted his life to.
He experienced those obstacles first-hand while living in Haiti.
Lotz worked with Operation Blessing, a humanitarian organization "dedicated to partnering with YOU to demonstrate God's love by alleviating human suffering in the U.S. and around the world," according to its website.
He experienced what he called the extremes of poverty, human character and the benevolence of people.
Lotz was living in Port-au-Prince, the capital city of Haiti, during the 2010 earthquake that killed as many as 100,000 people (the actual casualty count has been debated). The country didn't possess the resources to respond to something of that scope, according to Lotz, and a number of countries sent aid to help with the recovery efforts.
Lotz assisted with a group from IsraAID (a humanitarian organization from Israel) at a field hospital inside a soccer stadium, he said. At one point, a 12-year-old girl named Jessica was brought to the field hospital after having been trapped for one week — "She was a little miracle," Lotz said.
Assisting with such a devastating event, however, left a lasting impression on Lotz, he said.
"Anybody who goes through such a traumatic experience has a kind of survivor's mentality," he said. "You start to wonder, 'Why did I survive and others didn't?'"
It's taught him to take nothing for granted.
Capture every moment and not let the days slip away. That's what Lotz said he tells his parishioners at New Life Church.
"As a pastor, I say all the time, 'Get right with the Lord,'" he said.
— — —
In October 2019, Lotz was ready to begin searching for a church.
Somewhere where he could help spread his message of God's love.
Somewhere where he and his family could find a home.
He sent resumes all over the country, but specifically to churches in the Midwest — "South Dakota wasn't even on my radar," Lotz said.
He then came across the opening at New Life Church in Yankton, and sent his wife a text message that essentially read, 'What about South Dakota?'
"She wasn't sure at first, but the more we looked at it and talked about it, we thought we should try," Lotz said.
Through a series of emails and phone calls, Lotz was the only candidate remaining for the position by this February. He and his wife then made the trip to Yankton in the first week of March, and were given a community tour by local realtor Deb Specht.
They liked what they saw, according to Lotz.
From there, Lotz traveled back to Haiti to complete his work and his wife went back to the family home near St. Louis. Two weeks later, she suffered the seizure.
"If I had not made that visit with her, I might not be here," Lotz said.
"I wouldn't have wanted to uproot my family, but Jennifer blessed the move, I like to think. She saw this as a great place for our kids."
Staying true to his wife's desires, Lotz accepted the position as Senior Pastor with New Life Church. "I felt the call to ministry," he said. "And here at New Life, it fit all of the things we were looking for."
He has enjoyed getting to know his worshipers and their families. "People have brought us home-cooked meals," Lotz said. "They have all been so nice and supportive of me and my family. Everyone has been so welcoming."
Now that the family is living in Yankton, Lotz's children are experiencing their first foray into public school — they had previously been homeschooled.
"They love the slower pace," Lotz said. "Yankton has been such a breath of fresh air."
The grief of the past year has brought the family closer, according to Lotz. "We're all very close and have drawn strength from each other and from the Lord," he said.
Lotz said he came across an African proverb that rang especially true: 'Sticks in a bundle don't break easily.'
"We're in this together," he said. "We have to stay strong through all of the pain."