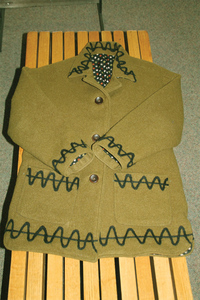 Of all the sewing projects Georgette Sutera has taken on since she started sewing as a teen, the coat she made recently may be the most unique.
The pattern itself isn't extraordinary. She deliberately selected a simple design. What makes the coat stand out is the material Sutera chose: the old Army blanket once used by her stepfather, Wally Konieczny.
Sutera came across the blanket after Konieczny's death in July 2016. The green wool twin or cot-sized blanket was carefully tucked away with some of his prized possessions.
"As soon as I found it I felt I needed to find a way to make something out of it," Sutera says. "I'm a quilter. I didn't need another blanket. If I stuck it in a box in the closet no one would even know it was there."
Since Army blankets were made to stand up under hard use, Sutera knew whatever she created would be sturdy and wear very well.
Initially, she considered using the blanket to make a cape, since she already had a cape pattern.
"But there wasn't enough material in the blanket for the cape," she says. "I measured the blanket to determine just how much fabric I had to work with and that's when I decided to make a coat."
After selecting her coat pattern and identifying a polyester lining that worked with the green wool, Sutera stitched up the coat.
The design includes two pockets and three buttons. The wood-look buttons she found in her button box nicely match the green wool.
"Sewing the coat itself was easy," she says. "I made bound button holes for the first time and that wasn't bad, either. Then I decided to use the needle punch attachment I had just purchased for my sewing machine to create a pattern on the cuff and along the bottom of the coat. The punching process itself wasn't so hard, but deciding on the pattern design and laying it out so it was uniform in size and placement was challenging."
Sutera used scraps of the blanket left over from making the coat to practice some needle punch designs. Initially she worked on a vines and flowers idea but didn't like the way it looked on the fabric. After several attempts at creating a design she settled on black acrylic yarn to create the rippled design that seems to blend well with the coat.
She carefully measured to maintain a uniform trim height and measured for width as she applied the trim, carefully checking to make sure the trim placement was even on the bottom front and on the back of each cuff."
I was really concerned that I might work on a trim that I wasn't happy with once it was done," Sutera says. "I knew once I put the trim on it would have to work."
The first few times she wore the coat, Sutera was pleasantly surprised when complete strangers stopped her to comment on their admiration for the coat.
They were surprised when they learned about her material source.
The first time someone stopped Sutera, she didn't think much of it. When it kept happening she realized her decision to use the blanket to make a coat was a shrewd one."
I heard many comments from people about having a keepsake they thought would work for a similar project," Sutera says. "I'm very pleased with how the coat turned out and to know that I was able to repurpose a keepsake for a new purpose."
Although the coat lining is a lightweight material and there's no other insulating fabric between it and the wool coat, Sutera found that the heavy duty wool keeps frigid air at bay. She is also happy that the blanket hasn't proven to be "itchy."
This isn't the first item Sutera has repurposed or salvaged for practical use. Numerous leftover material bundles are found in her sewing cabinet. It's possible that she'll tackle another military blanket this spring to see what meaningful piece she can create.
"One of my cousins lived close to my stepdad and I sent her pictures of the coat once it was done," Sutera says. "She thought it was very cool and mentioned that she has her father's Navy blanket. The word Navy is woven into the blanket. When I visit her later this year we'll talk about we might be able to repurpose it."
Sutera estimates that she spent some 10 hours creating her coat.
Since her sewing was done in multiple spurts of time over several weeks she can't say for certain how long it took.
"When I went to cut into the blanket, I felt a bit of a twinge," shesays. "This was something special to my stepfather and cutting into it was pretty final. But that moment passed and I went ahead with the project."
Sutera says fabric "often speaks to me," and she relies on that chance inspiration to determine which fabrics to select or how to use one that comes her way.
"Sometimes I make my own patterns for a project," she says. "That all depends on what strikes me at the time. I've repurposed items like t-shirts, which have a surprising amount of material in them. I've also made numerous items out of the ties that belonged to my first husband. Once he passed away I couldn't part with the colorful ties, and he had a lot of them! My experience has been that using keepsake items for these kinds of projects is practical and brings some healing, too."
Sutera's latest inspirations are the fabric mosaic projects she found at a craft show in Missouri. Scrap fabrics would be ideal for creating a mosaic. Sutera was taken aback at the $15,000 price tag on some of the items.
"I have to wonder how many the woman sells," Sutera says. "But I know I have little baggies of fabric scraps all over my sewing room. I'll have to contemplate how I might use them and do some research and sewing tests to learn how to put something like that together."
As for her wool coat, Sutera doesn't think she would change anything about the project that's been garnering so much attention.
"I enjoy the challenge of determining what I can do with an item," she says. "I take a defeat once in a while when things don't turn out as I expected. I have a fairly new sewing machine, but it doesn't have alot of fancy features. The biggest challenge is looking at something and envisioning what it could become."