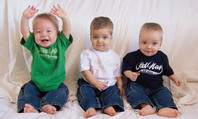 Nicole Kaul vividly recalls the moment when she and her husband, Dean, found out they were expecting not one, not two, but three babies.
The Tyndall couple had a routine doctor's appointment when Nicole was eight to nine weeks pregnant. As they looked at the ultrasound monitor, Nicole thought she saw more than one gestational sac and received confirmation when the doctor took a look and verified that there were indeed multiple babies.
"The doctor said, 'Yeah, there are some babies in there,'" said Kaul. "We (my husband and I) just looked at each other and kind of laughed. We were in awe."
Casidy Potts of Fordyce, Neb., had a similar reaction when she and her husband, Kurt, discovered they were expecting twins.
"We found out we were expecting twins when I was five weeks along," said Potts. "Before my first ultrasound, my husband jokingly said, 'I bet we're having twins.' I was a little confused when looking at my ultrasound until the tech started labeling 'Baby A' and 'Baby B.' We busted out laughing and couldn't have been more excited."
Both Potts and Kaul share a family history of twins. They were able to draw on the experiences of family (Potts also has friends with twins) as they prepared to expand their own families. Their time to prepare, however, was cut short when Potts and Kaul welcomed their children much sooner than expected.
Kaul went on modified bad rest – "more of a chair rest" – in the weeks leading up to her sons' birth at 32 weeks.
"I started going into preterm labor," said Kaul. "We tried drugs to stop the contractions, but the contractions weren't stopping. I just had that feeling something was going on."
When the contractions couldn't be stopped, Kaul was flown to Sioux Falls and, just 1½ hours after arriving, she and Dean welcomed Memphis (3 pounds, 11 ounces), Wesley (4 pounds, 1 ounce) and Trey (4 pounds, 6 ounces) into the world.
While Memphis and Trey were breathing on their own, Wesley needed to be intubated. He would later have surgery at 10 days old to close a blood vessel – the ductus arteriosus – that normally closes soon after birth but didn't in Wesley's case. Surgery was successful and restored normal blood flow to Wesley's heart.
It wasn't until 52 days after the boys' arrival that the entire family was able to be at home together. Memphis was discharged at 32 days, with Trey following at 45 days and Wesley a week later at 52 days.
Potts' introduction to motherhood began even earlier when her twin boys were born at 28 weeks.
"I planned on working part-time after 27 weeks to avoid bed rest," said Potts. "Unfortunately, after being flown to Sioux Falls, I delivered the boys at 28 weeks."
Potts' boys – Bennett and Liam – weighed 2 pounds 5 ounces and 3 pounds 1 ounce at birth. Both were immediately put on ventilators. They spent their first 80 days in the Neonatal Intensive Care Unit (NICU) learning to breathe on their own and eat.
"The NICU experience was the hardest think I have ever gone through and I don't wish that experience on anyone," said Potts. "I stayed at the hospital with the boys for their entire stay. My husband drove back and forth three times a week. Thankfully, my children are fighters and are completely healthy."
Once home, both families relied on support from family and friends, especially in the early days.
"There is no way we could have gotten through the NICU experience or some stages such as teething without the help and guidance of my parents," said Potts. "I honestly believe I have the greatest family support system. Our friends are pretty amazing as well."
Kaul agrees that the support of family helped them survive those first days, weeks and months.
"We did have tons of help," Kaul said. "Both of our families are from the Tyndall/Tabor area. My husband's mother would come at the noon hour. My dad would help. It was an assembly line: feed one, burp one, grab the next one!"
If it weren't for the schedule Kaul created, she doesn't know how she would have made it through the first months.
"(The schedule) was the only thing that saved us," Kaul explained.
"I took it to the point where I would take my binder to the doctor and say, 'This is when they ate, pooped, etc.' I had everything so scheduled.
That was a lifesaver. For the first three months, that's how our life was."
As time passed, both families fell into a routine and discovered the benefits and challenges of raising multiples.
Kaul, whose sons will be 13 in March, remembers how time consuming it was in the early years, especially during winter.
"In winter, there were three pairs of boots, three coats, three hats, etc.," said Kaul. "It took more time to go places. There was more packing."
As the boys grew older, Kaul and her husband looked forward to their expanding independence.
"We celebrated when they could get up and get their cereal and pour their milk," Kaul said with a laugh. "That was the best day!" Potts' sons are now three and have personalities that allow for Potts to (usually) achieve her daily tasks.
"The boys are very easy going and entertain themselves when I need to accomplish work or household tasks," said Potts. "The most challenging part is figuring out how to adjust your schedule based on their needs and still have your own time to take care of yourself."
While Potts is more easily able to balance her household duties and parenting, she said that having two children the same age brings with it some bittersweet moments.
"The sweet moments of raising a child from first words, first steps and many other milestones seem to be more rushed," said Potts. "It's a constant balancing act, so I don't feel as though we were able to savor those moments as much as we should have. Oh the other hand, we have twice as many (milestones), so that helps."
Both Kaul and Potts have enjoyed watching their sons bond and their relationships strengthen over the years.
When they were little, they wrestled around a lot," said Kaul.
As they approached the elementary school years, Memphis, Wesley and Trey went their separate ways a little more, Kaul said, but as they enter the middle school years, they've come together again.
"They do a lot of stuff together," said Kaul. "They have their own friends – some are similar and some are different – but they're more like buddies now. They all interact with each other very well."
For Potts, nothing compares to the bond Bennett and Liam have shared since the beginning.
"They were three days old when we were first able to hold them," said Potts. "We lifted the blanket off of them to find them holding hands. It was a moment I will never forget. They would watch each other and respond to each other from the time they were five months old. Every day they become closer and closer."
The boys strive to maintain that closeness even when they are separated – however briefly.
"We (Kurt and I) try to spend individual time with each little man," said Potts. "They enjoy their one on one time with Mom and Dad but are usually asking for their 'buddy' after a couple of hours. We separated the boys to ride carnival rides this summer. After each ride was over, they ran to each other and gave each other the biggest hug."
"Watching the boys bond has been nothing short of magical," continued Potts. "It is amazing to see them grow together and see how they are protective of each other. They are truly best friends. They help each other overcome obstacles and celebrate each other's successes."
When Kaul looks back over the years, she mentions the numerous times that people have approached her and said how fun it would be to have twins but don't know if they could handle triplets.
"Oh, having triplets, what's one more?" said Kaul. "We didn't know any different. When I had Olivia (9), life was boring. I could have had two more at the same time!"
Potts agrees that the moments, when multiplied, are worth it, and encourages anyone expecting multiples to savor this time as much as possible.
"Enjoy every moment!" said Potts. "When you look back, you won't remember how clean your house was, but you will remember those candid little moments that bring a tear to your eye."