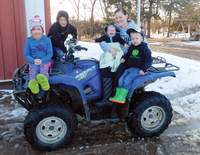 Feeding the World can present huge challenges, but today's farmer is well-equipped thanks to progress with modern innovations in technology.
Today's farmer is also equipped with modern farm wives who work hand-in-hand with their husband, filling planter boxes while caring for the next farming generation or bringing home the bacon from off-the farm income sources.
Crofton farm wife Leonarda Arens has worked side-by-side her husband Joe on their family farm since 1981.
"Joe's parents were still farming on his home place when the neighbor's farm came up for sale," Arens said. "We are still very thankful we were in a position to make the move back to Crofton."
Joe's parents welcomed them back to rural Crofton, and the couples worked together, sharing equipment until Joe and Leonardo made enough to buy their own equipment, piece by piece. They raised their two children on the farm and thanks to Grandpa and Grandma living one-half mile down the road, rarely had to rely on daycare for childcare.
"It was so nice to be able to drop them off at Grandma's if the need arose like helping Joe with planting or running for parts," Arens said.
Remembering the love Grandma shared, Joe and Leonarda made it possible for Grandma to stay at home on the farm until her death and cared for her the same way Grandma cared for her grandchildren. They are very grateful their farming life allowed them to give Mom the care she needed instead of putting her in a home.
"We had a dream to farm and Joe's parents were very supportive," said Arens. It made possible for them to be with his parents as they aged and have a life they loved.
Helping Joe with farming was and still is Leonarda's career choice. She estimates she works and lives beside her husband 98 percent of everyday.
"We do everything together," Arens said with a laugh.
Although Arens doesn't drive a tractor, when planting season rolls around, Arens is out in the field, filling the planter boxes or helping with liquid fertilizer application. Sometimes they are in the tractor together – sometimes she sits in the pickup at the end of the rows,
waiting for the next stop for seed or a parts run. Whatever is needed.
Sitting on the end of the row waiting for Joe does get boring sometimes Arens admits so she shared her favorite boredom buster and it's not a game on an electronic pad. She loves cross-stitch, does some embroidery - but the real deal is cross-stitch. She irons her favorite design on a tea towel and tells Joe she can have one tea towel embroidered in one trip down and back to Kansas to see grandchildren.
Arens loves country roads and the Spring planting season is Arens' favorite time of the year. She loves the energy in the air and the weather while Joe looks forward to harvest time when a farmer harvests the summer's crop and sees his accomplishment. For Arens, harvest is a very stressful time of year since it's a time for pushing, racing everyday Arens feels, against the weather.
When Arens was growing up on her family's farm near Menominee, she remembers her dad, getting her on the tractor when she was about 13 years old.
"I promptly drove right through a fence," Arens said laughing. "My dad looked at me and said, 'I don't think we'll have you drive a tractor,' and so I did other farm chores like milking."
Arens knew when Joe and her started farming, milking cows was not going to be part of their farm life and Joe agreed. The couple raised hogs and ran some cattle for several years but now are grain farmers and enjoy the free time they have with their son and wife in Omaha who have two of their grandchildren and daughter and husband in Kansas City also with two grandchildren. Both of their children have careers but like Joe's parents have a dream that someone, maybe even one of their granddaughters, will come back to the family farm.
"We love what we do and wouldn't change it for anything," Arens said. "We work together as a team and have a great life."
When Holly Dickes married husband Eric, she knew just what she was in for and it didn't change her mind.
"I love the farm life – it's wonderful and a great place to raise children," Dickes said.
Dickes was raised on a farm near Hartington and has fond memories of family life growing up there, so it wasn't much of a leap for her to marry a farmer. She and her husband have only recently moved to the Dickes family farm near Fordyce, easing into farm life when Eric's parents moved to a home in town and dad Gene slowly starts easing himself toward retirement. Eric is the manager of the Fordyce Coop in his spare time and Holly is a stay-at-home mom who also operates a small daycare with four children of her own. The couple is taking small steps, taking things slowly as they move into the family farm operation.
"Family farms are in a scary position right now, competing with large farming entities and fear of being taken over," Dickes said.
"I still feel it is exciting to live on a farm, doing it all, seeing how farming affects our lives and everyone's lives around the country, changing the world," Dickes said.
Even though there is plenty of work for two families on the farm, the income in today's ag economy will not support both of them. So, they make responsible choices for added income, allowing both families a chance to continue farming the family farm. Along with Eric and Holly having off-the-farm income, so does mother-in-law Sue. It is the farming way in today's depressed ag climate.
Looking forward to spring, Dickes will be planting a large garden with her mother-in-law, a gardening expert who fed her family of six children and in the past, could be seen selling extra produce at local farmers markets. She hopes to gain several gardening tips during the summer season.
"I love living on the farm but right now my biggest fear is little kids getting in the way of farm equipment," Dickes said. "So for now, I'm a caregiver but when I get a chance, I do help some and hope to do more down the road."
Dickes laughed when asked if she had a hobby and replied, "Ah, changing diapers and feeding hungry kids." She loves being outside and knows some day she will have time to sew and make quilts but is content loving her life just as it is right now.
"Farm life is the greatest way to raise kids, guide them to be good, hardworking kids and develop strong family values," Dickes said.
When Lori Eickhoff reminisces about being 18 years old and helping with the milking in the mornings before school and feeding bucket calves on her family's farm, she knows all she could think was, "I need to get away from this."
Today Eickhoff laughs as she drives the feed truck through the cattle yards or rakes hay in the heat of summer on her husband Ken Eickhoff's family farm near Fordyce. Life is like a boomerang, bouncing stuff back at you she said. The couple has farmed together since they married in 1985. When she needs to be, she is a hands-on farm wife and that includes driving hubby's John Deere combine or grain cart.
"I did go on to college and became a registered nurse but when our kids came along, I just wanted to be home," Eickhoff said.
The couple decided to sacrifice the little extras like extravagant vacations and driving shiny, new vehicles so they can afford health insurance, allowing Eickhoff to stay at home. Cut back where they can and make do has become their motto just like most farming families.
Being a stay-at-home molded Eickhoff into a vital cog for the Eickhoff farming operation. Helping Ken and working beside him keeps the conversation between them strong. Once in awhile when she would take a part-time job working off the farm, it seemed messages between them were confused and she found herself out of the loop. She also found when she would come home from her nursing job, she had that on her mind and Ken would be thinking farm activities. Relating to each other was a challenge.
"Now I'm right there with him, I know when the good and bad happens," Eickhoff said. "I feel I can be more supportive of him and also he is more supportive of me because we are working together."
Now as their youngest of five graduates from high school, Eickhoff finds she is quite comfortable being a full-time farm wife.
The Eickhoffs love all seasons and now in winter, it gives them a break from the rush of field work in spring, summer and fall. But they are looking forward to spring planting and gardening.
"Let me dig in the dirt and I'm happy," Eickhoff said.
Looking forward to planting a garden, Eickhoff is already thinking about what to plant, where there are trees to replace or maybe plant new and are those shrubs exactly what she envisions around the house. That's her hobby now.
"But when the leaves are changing, and harvest is ready in the field, that's both of our favorite time of the year, seeing what the year's hard
work has produced," Eickhoff said.
As the couple leans toward the age when farmers start to think about slowing down, Eickhoff has worrisome thoughts about agriculture.
"I don't see how younger kids can get involved in agriculture because it's so expensive now," Eickhoff said. "I read somewhere a farmer is getting the same price for grain as in 1978 and look at how input costs and the cost of new machinery has skyrocketed. If a young gentleman or lady doesn't have a foot in the door, how can he farm? It'll be a tough road."
Even for the Eickhoffs, farm expenses cause them to make difficult decisions. Ken has typically been able to do most of the repairs on their equipment to keep costs lower but today's more modern equipment design almost makes it impossible for the farmer to work on them on their own. It's a balancing act, repairing the old equipment as opposed to buying new is often a tough call to make.
The couple would welcome a family member back into the operation but also realize it is a double-edge sword. Eickhoff doesn't believe there are many farmers who are financially set up to include another individual or give the farm away. They will stay at farming as long as they physically can and take it day by day, but she adds traveling is a dream of theirs.
Living in the large metropolis of Wynot drove Marie Haahr crazy, so when the opportunity came for the Haahrs to move to a farm a mile out of town, she and husband Jason took it. Jason was already working with his uncle on the family farm.
Marie has been a farm wife for 18 years. Along with organizing a farming husband and four children, Haahr is a vice-president at the Bank of Hartington.
"Although I did drive a tractor when I was growing up, I have relinquished that job over the years," Haahr said. "Now I balance my off-the-farm work with my day-to-day duties in town."
Haahr said she realized she needs to get done what needs to be done at the time and be satisfied with that. There is always at least one child, and usually more than one, who needs to be hauled somewhere; a necessary stop at the Vet Clinic for supplies over her lunch break; or repairs to pick up after work.
"I'm the farm gopher," Haahr said laughing." But I also relish the quality time I have with the kids while we feed calves or fix a fence. It gives us all a chance to get to know each other better."
The Haahr family is a 4-H family which gives the whole family even more up close and personal experiences to treasure for life.
Looking back on her childhood memories, Haahr remembers growing up on her family's farm near Menominee and fixing fence with her dad Chuck, which have created slices of life she will cherish always. Even chasing hogs with dad is a memorable experience for sure. Any farm wife or kid knows that.
The Haahrs are very thankful for the opportunity to keep the family homestead going. Certainly, Jason's uncle has built a strong foundation and the Haahr family is very fortunate to be able to move into the operation with him and continue the work into the future. The family operation includes a small dairy and farm ground. When a farmer can become involved with an established farming operation, it makes a farming transition possible.
"Young farmers today who can be involved in a family operation have a huge advantage in today's economy," Haahr said. "It's almost financially impossible to get started on your own."
The Haahrs have one son graduating from high school and considering a career in diesel mechanics with an eye on farming someday.
Haahr sees the future of agriculture to be bright. The technology advances make farming an incredibly precise operation, but she added, the farmers must be willing to change, evolve with the changes in agriculture – not forget the past – but in order to feed the world, farmers must do what they need to do and find a niche market to be the best they can be.
"Living on a farm is a big chore but it has its rewards," Haahr said. "There are so many lessons learned out here that you don't learn anywhere else."
Growing up on a farm has taught Haahr to appreciate every little thing that comes along in life and she and Jason are passing those treasures along to their family every day. Just like Marie and Jason learned in their young life, so their children are learning they don't need as much to be happy while instilling the satisfaction of hard work.