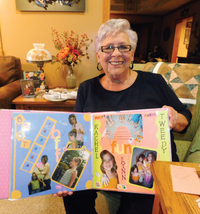 Whatever happens at Grandma's house, stays at Grandma's house.
That pretty much described the Grandparent weekends Judy Stratman hosted over the years with several of her grandchildren.
"When I started this grandkid weekend about 15 years ago, I laid down some ground rules," Stratman said. "No parents allowed was the big one and the kids had to follow grandma and grandpa's rules."
Stratman remembers the kids always liked to come in the summertime from different directions and distances. But Grandma Judy and Grandpa Dick decided it would be good for them to spend time together and bond as cousins by being together for four or five days.
"So, it was basically a long weekend, a fun time, no parents allowed and we would go pick them up and take them home," Stratman said.
At first the get-together was just the five older girls but eventually the smaller grandsons soon figured out whatever was going on at grandma's house, it was fun and they wanted to be part of it. Eventually the grandsons decided to be brave, outgrew their shyness and took a chance of being away from mom and dad for a few days. Now the Stratmans have 11 grandchildren but a couple are much younger so unfortunately, they missed the fun.
Every grandparent weekend had a theme so the first summer getaway was Butterfly weekend.
Stratman, being sort of a DYI person herself, had supplies for the grandkids to make glass butterflies and a trip was planned to the Butterfly Museum. The last big decision for the weekend was to plan next year's theme.
For another year, Wildflower weekend was the theme and Stratman sewed wildflower aprons for the flowerchildren but the fun was only beginning. The kids planned a menu for one meal and everyone was part of the planning. Stratman said the food was crazy because every grandkid picked their favorite food. Macaroni and cheese were always at the top of the list.
The cooks, of course, were the kids and Stratman's kitchen was a mess but no adults were allowed. The grandchildren handled everything. The grandparents were formally invited as guests and the dining room was named Wigwam café complete with hosts, hostesses and waiters and waitresses. If a grandparent was alone, they had to a pick a date and Stratman remembered one year, her mom, great-grandma Dorothy was invited and she picked Stratman's brother Denny to be her date.
Another special weekend filled with lots of memories was dabbed as glamour weekend and the girls dressed up. There was makeup to put on each other and Stratman treated all the girls to a trip to a beauty salon to get their hair done. After they did glamour shots. Even the boys could be found trying on high heels and she said at times the boys couldn't decide if they wanted to be boys or girls.
One weekend they made hollyhock dolls because Grandma had tons of holly hocks in her back yard. Another weekend there were body paints for everyone to experiment with and a ladybug weekend brought out the nature lovers in all.
One weekend Grandma dug out all her old typewriters from the closet and for the day, they had an office. It was a fun time and something mom and dad would probably not let them do. A visit to Westside Park one afternoon to feed the ducks and check out the museum, found the granddaughters posing as queens of the castle. Grandpa Dick was always part of the fun, too, and off to the little car racetrack they would go. One day they admitted they didn't know how to play marbles so Dick showed them all about one of his childhood pastimes.
A patriotic weekend was planned one year and Stratman's youngest son Neil, the grandkids' uncle, was stationed in the Army in Iraq. She had emailed Neil about the weekend and what was planned. The kids had decided to blow up dozens of balloons – grandma conveniently arranged for a helium tank to be in the garage – and write messages of love and encouragement to the soldiers overseas. She arranged the time for the balloon release with Neil and on the day of the event, after the release, when the grandkids could no longer see the balloons, Neil texted how unusual it was because all these red, white and blue balloons were flying around in the sky where he was and the soldiers were finding some of them that had dropped down so they could figure out was going on.
"What Neil did," Stratman said. "Those kids were so surprised, they almost had shivers, I think."
Another neat thing the Stratman crew did one weekend was to draw names. Then a big white chair was set in front of the fireplace in grandma's living room for each grandchild to take turns sitting. Then each child had to share their name and tell that person what it was they liked most about that person whose name they had and why they would like to be that person. No negative comments could be made.
"After the one grandchild said why she loved the other person so much, the other kids could feed into it and give their positive remarks," Stratman said. "It became a real positive exchange of bonding, even tears sometimes."
Another weekend Stratman wanted them to understand more about their upbringing and culture, so she took the kids to spend the day with her mom. Great-grandma made ice cream sundaes and she could see the connection they made to her past.
'I think it really was special for those kids who looked forward to that weekend every year, they knew they got together and it wasn't at Christmas with all the commotion," Stratman said. "And that was why I didn't want parents."
Every weekend was a favorite and every year, more projects and activities were thrown into the mix and no one ever missed. When they became in involved in high school activities, the weekend get-togethers wound down.
The last weekend event was spent with just the two little boys and they wanted to be soldiers. Grandpa Dick was very pleased to help plan the weekend and talk about his service. Together with grandpa, they dressed for special photos. The boys are playing college football now.
There were lots of photo opportunities at every turn and everyone made a scrapbook including grandma. Stratman even laughed as she remembered one granddaughter's scrapbook was barely finished for display at her high school graduation.
Standard weekend activities included church, breakfast in bed, movie night, museums, day trips, a something special activity and special theme. Sometimes they had to sleep three in a bed but it didn't matter at grandma's house, and they were dead every night after a day full of fun activities. Grandma didn't tolerate any fraternizing, no drifting off in small groups and everybody was together all the time. One more thing grandma tried to instill was respect for others so that included picking up after oneself.
"Oh gosh, we had so much fun," Stratman said. "Still, no one got by with something just because they were at grandpa and grandma's house. You pick up, show respect and pray before meals."
In between all the fun times, Stratman worked like most women do today. But the unique aspect of her job propelled her into a man's world.
"The opportunity to work at WNAX came to me by the grace of God, through the back door," Stratman said. "I will be at WNAX as a radio announcer for 44 years this year and all the people I started with are gone now."
A friend from Crofton, Gene Williams was the farm director at WNAX years ago, and he pestered Stratman to come work for him as his secretary. Stratman said no too many times to count but he pressed on until he gave her an ultimatum. Either he would come to her house and interview her or she would come to his office.
"I said to him, no, ain't gonna, don't know anything about radio, ain't going to happen," Stratman said shaking her head.
Finally, Stratman relented and started working as William's secretary. He slowly started to talk to her about reading the markets online. He said she really should know how, in the event he wasn't at work. One day he coaxed her into the broadcasting booth to watch. Shortly before he was to go on air to give the daily market report, he left the booth for some odd reason and never came back.
"About the time they were to switch his mike on, he left, left me cold," Stratman said. "I will never forget that. I went out the back-door bawling. I was not staying here."
Another WNAX announcer, sports director Norm Hillson was coming back to work after lunch and caught Stratman, asking what was wrong.
"I told him he put me on the air," Stratman said. "And he put his arm around my shoulder and said, "You get back in there, woman. You're going to outlive all of us."
And Stratman did.
Stratman just liked working with the people in the business and stayed a lot longer than she ever thought she would. Her goal was a couple years at best.
"After I started reporting farm news, I found farm law, you know, the things about farming very fascinating," Stratman said.
During the course of her years as a farm broadcaster, one of her special memories was being a part of the Nebraska LEAD Program, which was an adventure certainly which the radio station encouraged her to be a part of. Through her LEAD experience she was able to travel to China and Korea to be part of an international study on agriculture abroad.
While in China, Stratman's group was invited to climb aboard a grain tanker which held one-hundred carloads of grain. The Chinese officials took the LEAD members to a large hole on the top deck so they could look down and see the unloading process in the hold of the ship.
"There was nothing to hold us back from pushing each other over the edge," Stratman said. "And looking down into the hold, the payloader was the size of a fly turd. You could never do that in the United States."
Needless to say, that trip was a real eyeopener for Stratman. When she came back from that overseas trip, she was ready for the next step in her career. She clearly understood the challenges facing agriculture and the regulations in place through OSHA. The group also studied poverty in the two countries and observed homes with dirt floors and young children jumping over the sewer water running down the street in front of their homes.
"When we checked into customs in Chicago, I don't think there was one of us who didn't have tears in our eyes and wanted to kiss the good old American soil."
During Stratman's time at WNAX as an announcer, she also wrote for seven publications and loved it.
Today, Stratman works every week on WNAX as the announcer of 'Judy's Journal." She journals all of her interviews at home on her computer and goes to the station to broadcast the stories she collects from small local towns and her favorite topic, conversations with veterans.
"I love my work and short of a medical issue which would make me stop, I don't see myself ever quitting," Stratman said.
When Stratman considers the future and young people joining the work force, she finds the idea one can do what one wants, go where one wants to go, not always possible and she does not believe that. She sees that as a real struggle for young people and confusing as well. With all the ambition young people have, sometimes direction and guidance make them better.
"I could have gone to a number of other radio jobs, not necessarily better but I had offers and chose not to go," Stratman said. "My husband was part of it and there is a respect there. I learned doing what you want might be pushing someone in the background."
Stratman chose to be happy with what she was doing and found one can love what you're doing. She believes it's important for young people to have a mentor to guide them through tough times and maybe it will be someone at a job or maybe even a grandparent.
Ed Nelson, also a farm broadcaster at WNAX, became Stratman's mentor.
"Nelson always said to me, 'I don't want you to follow exactly in my footsteps, I want you to be better than me,'" Stratman said. "He told me I was younger and I had more tools so I could be better."
One of the things Stratman has always disliked about being in the limelight so to speak with her job as a radio announcer and being on the air, is just that – the notoriety.
"I'm just like everyone else, no different," Stratman said. "I make the same mistakes and do the same stupid things.